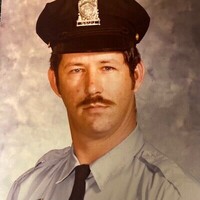 William "Bill" Ralph Haupt, 78 of Waldorf, MD passed away Saturday October 31st, 2020 at his home.

Born on April 18th, 1942 in Sunbury, PA. He was the son of the late Mary Margaret Haupt (Fleming) and Bruce Albert Haupt Sr.

Shortly after high school Bill enlisted in the United States Navy. While stationed in Washington DC he was introduced to Eleanor Kalamar whom he later married on December 29th, 1965. They were blessed with two lovely daughters. Bill also had a son from a previous marriage.

After serving in the Navy Bill went on to work for American Airlines for several years before joining the Washington DC Metropolitan Police Department in 1972 where he received the Silver Medal for Valor.

Bill was known for his most generous heart, always willing to help those in need. He cherished his family and friends greatly but was especially proud of his 6 beautiful grandchildren.

Bill is survived by his daughters: Christina "Tina" Thompson (Joseph), of Hughesville, MD and Wendy Buckler of Bryantown, MD., His brother Bruce Albert Haupt Jr. of Sunbury, PA, his sisters: Laura Benfer of Shamokin Dam, PA, Margaret Scholvin of Port Charlotte, Fl, and Kathleen Rowe of Bloomsburg, PA. as well as his six grandchildren Jesika Watts, Jonathan English, Gabrielle Thompson, Madeline Buckler, Emma Thompson, Sophia Buckler and his great granddaughter Ryleigh Jean Palardy.

He is preceded in death by his beloved wife, Eleanor Kalamar Haupt, his parents: Mary Margaret Haupt and Bruce Albert Haupt, as well as his son Robert Bruce English.

Due to the new COVID-19 regulations, a Memorial Gathering will be held at a later date.

Condolences to the family may be made at www.brinsfieldfuneral.com

All arrangements have been made at Brinsfield Funeral Home & Crematory, P.A., Charlotte Hall, MD.