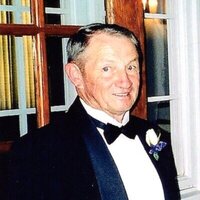 Wesley Lindy Nichols, 89, of Charlotte Hall, MD departed this life on Sunday, November 8, 2020 at the Hospice House of St. Mary's, Callaway, MD.

He was born on December 18, 1930 in Copper Hill, VA to the late, Ira Richard Nichols and Ollie Mae (Wimmer) Nichols.

Wesley, affectionately called Samson, met the love of his life, Marian L. Owens and knew he had to make her his forever. They married on July 16, 1949 and celebrated over seventy-one (71) years of marital bliss. Their love was inspiring and grew with each passing year. Their enduring union welcomed eight (8) children, Kathy, Diane, Patricia, Carol, Tammy, Shelia, Wesley and Ronald.

A hard-working man, Samson supported his family as a heavy equipment operator at Driggs Construction Company until his retirement in 2001, this was after over sixty (60) years of dedicated service. He never felt like he was going to work, more that he was allowed to "play" with the grown-up version of Tonka trucks.

Samson was a kind and generous man. The type of man to give you the shirt off his back, but also willing to show you the way to take care of yourself. He lived a simple life with his beloved wife and treasured moments surrounded by his children, grandchildren, great-grandchildren and he was enamored with his nine (9) great-great grandchildren.

Whether you know him as Wesley, Samson, Dad, Brother, Grandfather, Great-grandfather, or friend, you knew a wonderful and caring man. He will leave behind a legacy of strength, love and happiness.

Wesley is survived by his beloved wife, Marian L. Nichols of Charlotte Hall, MD; his children, Kathy M. Haag (Kenneth) of Titusville, FL, Diane Nelson of Ripley, MD, Patricia Harrington (Lance) of Indian Head, MD, Carol Bailey (Teddy) of Charlotte Hall, MD, Tammy Payne of LaPlata, MD, Shelia Shadle (Kevin) of Waldorf, MD, Wesley L. Nichols, Jr. (Debbie) of VA, and Ronald D. Nichols of Charlotte Hall, MD; thirteen (13) grandchildren; nineteen (19) great-grandchildren and nine (9) great-great grandchildren. He is also survived by his siblings, Lena Hoback, Betty Martin, Sue Smith and Fred Nichols and many nieces, nephews and extended family. He was preceded in death by his parents, Ira and Ollie Mae Nichols, and siblings, Tommy Nichols, Marshall Nichols, Carl Nichols, John Nichols, Raymond Nichols, Ina Morgan and Pearlie Sowers.

The family will receive friends for Wesley's Visitation on Wednesday, November 11, 2020 from 5:00 p.m. to 7:00 p.m. at Brinsfield Funeral Home & Crematory, P.A., 30195 Three Notch Road, Charlotte Hall, MD 20622. A Funeral Service will be held at 7:00 p.m. on November 11, 2020 and officiated by Pastor Wilson Morales. Interment with a graveside service will be held on Thursday, November 12, 2020 at 10:00 a.m. at Trinity Memorial Gardens, 3221 Mattawoman Beantown Road, Waldorf, MD 20601.

In lieu of flowers the family would request donations be made in Wesley's name to Hospice House of St. Mary's, Post Office Box 625, Leonardtown, MD 20650.

Condolences to the family can be made at www.brinsfieldfuneral.com

All arrangements have been made at Brinsfield Funeral Home & Crematory, P.A., Charlotte Hall, MD 20622.