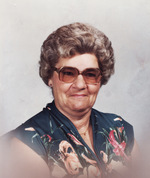 Agnes Cecelia Mattingly "Sis", 92, of Morganza, MD passed away on October 31, 2020 in Leonardtown, MD. Born on January 2, 1928 in Mechanicsville, MD, she was the daughter of the late Gertrude Copsey and Luther Copsey. Sis was the loving wife of the late Schercliffe "Tholly" Bartholomew Mattingly who preceded her in death on October 5, 1981. Sis is survived by her children; Steve Mattingly (Patsy) of Morganza, MD, Sharon Mattingly of Bushwood, MD, Bernard Mattingly of Morganza, MD, Mary Thompson of Morganza, MD, Charles Mattingly (Wendy) of Morganza, MD, 11 grandchildren, and 14 great grandchildren. She was preceded in death by her children; Leonard Mattingly and Thomas Mattingly. Siblings; Hilary (J.H) Copsey, Wilson Copsey, Eugene Copsey, Luther Copsey, and Gertrude Marshall.

She was a lifelong St. Mary's County, MD resident and graduate of Margaret Brent High School. Sis was a lifelong waitress at Hill's Club, Wicomico Shores and Fitzie's Restaurant throughout her life. She loved gardening when she had time.

The family will receive friends on Thursday, November 5, 2020 from 5:00 to 8:00 PM in the Mattingley-Gardiner Funeral Home, Leonardtown, MD. A Mass of Christian Burial will be celebrated on Friday, November 6, 2020 at 10:00 AM in St. Joseph's Catholic Church Morganza, MD with Father Rob Maro officiating. Interment will follow in the church cemetery. Serving as pallbearers will be; Brian S. Mattingly, Francis Copsey, Roy Copsey, Hilary Copsey, Ray Copsey and Dallis Hill.

Contributions may be made to the Seventh District Vol. Rescue Squad P.O. Box 7 Avenue, MD 20609.