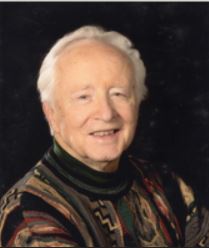 On November 7, 2020 Henry Thomas Waring passed away at his home. The son of Ethel and James Waring, Tom was born on September 8, 1922 in Winnetka, Illinois. When his older brother, Jimmy, died in 1932, the family returned to Southampton, the ancestral Waring home, in Chaptico.

After the attack on Pearl Harbor, Tom enlisted in the Navy and served on the USS Massachusetts and the USS Trenton in the Pacific theater where he was a clarinetist with the band. Before his discharge in 1946, Tom had earned four stars.

Tom Waring made his living in the real estate business and, to him, discrimination was intolerable. One day in the mid-1950s an African American serviceman inquired about housing for his family at a trailer park he ran. Against the advice of his manager, he rented to the serviceman, thus ushering in integration a decade before it became law.

Anyone who has ever enjoyed anything at Breton Bay. Has Tom Waring to thank. Around 1960, he started subdividing the land, selling lots, and over the years he built many homes there. In the early 1970s the golf course was added.

In 1991 Tom was asked to serve on the Board of Trustees at St. Mary's College of Maryland, a position he held until 2005. A graduate of Margaret Brent High School, Tom understood the importance of education and, in 2010, established the H. Thomas Waring Scholarship Fund to help students who experienced financial and/or academic difficulty.

At the 2013 Commencement Exercises, St. Mary's College of Maryland conferred an Honorary Degree on him.

Tom Waring is survived by his children – Kay, Jim, Betty, Nancy, Nick, David, and Emily, and seventeen grandchildren and fourteen great grandchildren

All arrangements are private.

Memorial Contributions in Tom Waring's honor may be made to St. Mary's College of Maryland Foundation, 18952 E. Fisher Road, St. Mary's City, Maryland 20686 memo – the H. Thomas Waring Scholarship Fund or the Leonardtown Volunteer Rescue Squad, P. O. Box 299, Leonardtown, Maryland 20650.

Condolences to the family may be made to www.brinsfieldfuneral.com.

Arrangements by the Brinsfield Funeral Home, P.A.