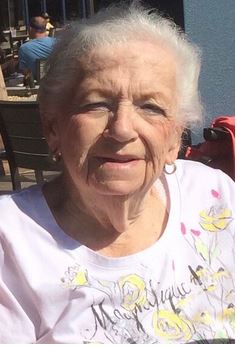 Alice Ann Agrafiotis, 86 of California, MD passed away on November 5, 2020 at home with her family by her side.

Alice was born on September 5, 1934 in Washington, D.C. to the late Bernard Joseph Riley and Mary Elizabeth (Garrett) Riley.

Alice grew up in Bradbury Heights, Maryland and attended St. Francis and St. Cecelia Catholic Schools. She married John William Agrafiotis on September 24, 1971 in Upper Marlboro, MD. Together they enjoyed taking cruises and spending time with family and friends. Alice also created beautiful ceramic and porcelain items. She and John were blessed to raise two daughters, Mary Frances and Patricia. She was employed as a Store Manager for Safeway for 35 years where she made many lasting relationships with her co-workers and customers. Alice was the first of two women promoted to Store Manager at Safeway, forging the way for all women.

She is survived by her daughters, Mary Frances Whitmore (Vince) of Stafford, Va., and Patricia Snyder (Dave) of California, Md., her sister, Joan Turgeon of Grand Junction, CO; her grandchildren: Chris Vogelsang (Jen), Jeff Vogelsang (Johanne), Jonathan Moreland (Jennifer), Shaina Bates (Charles), Colin Whitmore (Emily), Lauren Thompson (Craig), and her great grandchildren, Ethan, Drew, Tyler, Spencer, Sadie, Aidan, Annie, Chandler, Hudson. She was preceded in death by her parents, her husband, and her sister, Joy Malanka.

The family asks that donations in lieu of flowers be made in Alice's name to Hospice of St. Mary's, P.O. Box 625, Leonardtown, MD 20650.

Interment will be held at Arlington National Cemetery at a later date.

Condolences to the family may be made at www.brinsfieldfuneral.com.

Arrangements by the Brinsfield Funeral Home, P.A.