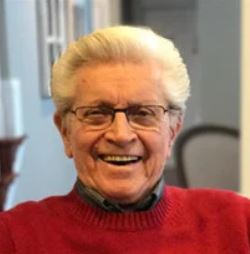 It is with profound sadness we announce the passing of Howard Michael "Buddy" Clements, at the age of 90; our loving and devoted father, "PopPop" and friend to all whose lives he touched, on October 28, 2020.

Predeceased in death by his beloved wife, Barbara Burkett Clements; his father, Howard Leo Clements; his mother, Eleanor Pearl Fleisch, and his brother, Billy Clements.

He is survived by his sister, Joan Connell; his three daughters and sons-in-law: Lisa and Roland Colmus of Huntingtown, MD, Dana and Ben Straub of Leesburg, VA, Julia and Jeff McFadden of Blue Bell, PA; six grandchildren: Chris and Summer Colmus, Jack and Maddie McFadden and Max and Isaac Straub; and numerous nieces and nephews.

Buddy was born on November 10, 1929 in Philadelphia, PA. He grew up in Kensington with his mother and sister. At the age of 19 he was a Private First Class in the United States Army. Buddy was a salesman from the start and as a teenager he sold magazines door-to-door throughout the US. He then went on to sell mobile homes, cleaning and nutrition products and major appliances. But his greatest sale was when he sold a vacuum cleaner at Sears to his future wife, Barbara Burkett. Three months later, they were married in Washington, DC and on December 15, 2019, they celebrated their 57th wedding anniversary. They joyfully raised their three daughters, Lisa, Dana and Julia in their family home in Lothian, MD. The additions of sons-in-law and grandchildren allowed them to continue to spread their legacy of love.

As a recovered alcoholic, Buddy accepted Jesus as His Lord and Savior and spent the rest of his life sharing God's word with others. Everywhere he went was an exciting opportunity to witness, whether it was at a gas station, grocery store, nursing home or Walmart parking lot. Over the years, Buddy found joy in teaching Sunday school, visiting the elderly, preaching, witnessing, watching sports, drinking cream soda, eating honey buns, oatmeal cookies and strawberry donuts, telling jokes, doing crossword puzzles, acting, counseling, dancing and reading the Bible and newspaper. His most recent fame came from dancing on TikTok and he enjoyed telling everyone that he was the TikTok King. One of his most cherished moments in life was visiting Israel and being baptized in the Jordan River.

Although our hearts are broken, we also rejoice knowing that he finally got to be reunited with his bride, Barbara and his Lord and Savior, Jesus Christ.