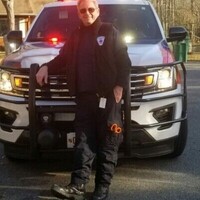 Walter Samuel "Sam" Sayers, 74, of Dameron, MD passed away on November 1, 2020 at his home surrounded by his loving family.

He was born on January 27, 1946 in Washington D.C. to the late William Walter Sayers and Dorothy Nancy Jones Sayers.

Sam is a graduate of Chevy Chase High School and attended George Mason University in 1980 where he studied Business. He began his long career as a skilled construction contractor, opening his own company, Sayers and Son until his retirement. He sub-contracted for Hechingers, Home Depot, and Lowes, earning the Installer of the Year award for the East Coast in 2000, 2005 and 2006. He and his father built his family home that he and his family resided in. On June 30, 1990, he married his beloved wife, Lynn Fletcher Stream Sayers. Together they celebrated over 30 wonderful years of marriage.

Sam loved spending time on the water. He enjoyed fishing, crabbing, sailing, kayaking and paddle boarding. Family was his greatest love, especially his grandchildren, whom he enjoyed spending time with.

He was a volunteer with Ridge Volunteer Rescue Squad for the past nine years, and the Advanced Life Support Unit in Leonardtown for the past four. He found a true calling and thoroughly enjoyed helping others in need.

In addition to his beloved wife, Sam is also survived by his children: Billie Jean O'Malley of Columbus, OH, Sean Sayers (Alison) of Dameron, MD, Tim Stream (Christy) of Greensboro, NC and James Stream (Corrie) of Lancaster, PA; his sister, Gabrielle Abell; his grandchildren: Eleanor Sayers, Samuel Richard Sayers, Aiden O'Malley, Grace O'Malley, Brendan O'Malley, Hanna O'Malley, Evan Stream, Christopher Stream, Maggie Stream, and Ava Stream; and many extended family and friends. In addition to his parents, he is also preceded in death by his brother, Charles Sayers.

A celebration of his life will be held in spring/summer of 2021, the date to be announced.

Condolences to the family may be made at www.brinsfieldfuneral.com.