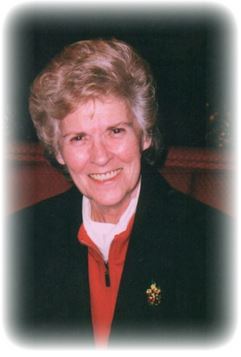 Jean Raley Ridgell, 89 of Ridge, MD peacefully passed away on November 1, 2020 at home, surrounded by loving family.

Daughter of the late James Harry Raley and Anna Willing Stone, she was born in Baltimore on August 21, 1931. She enjoyed her childhood on Mulberry St attending St Bernardine's Catholic School on Edmondson Avenue. She frequently visited Southern Maryland with her parents where she enjoyed time with her cousins and helping her aunt Alice "Sissie" Raley in the family restaurant and inn. After WWII, her father purchased a country store in Scotland, Maryland and the family relocated. Jean attended St Michaels high school in Ridge and graduated in 1949.

In 1950 Jean married Lt. Clarence H. Ridgell "Buzzy" in San Antonio Texas. In 1953 after his service in the Air Force, they returned to St. Mary's County (SMC) and bought her father's store in Scotland where she worked along side him for many years. She was a gracious woman with a passion for faith, family and politics. She was a devoted and loving wife/mother/grandmother who enjoyed entertaining, dancing, cooking and hosting crab, pitch and pool parties with her family and many friends. Her annual Christmas night party was a particular favorite.

Jean was very active in the St Michael's parish Ladies of Charity serving terms as their president. From 1964 – 1972, she worked at the Naval Air Test Center, Pax River as secretary to the Comptroller. In 1983/4 she worked for the SMC chamber of commerce on weekends and was assigned full time to the SMC 350TH anniversary planning committee. In an Enterprise article the staff reporter Joseph Norris referred to her as the "heart and soul" of the 350th anniversary committee. She also worked briefly at Sotterly Plantation and St Marys College, but always considered her primary career as mother and family care taker.

Jean is survived by her children: Joseph Scott Ridgell (Pam) of Piney Point, MD, Donna J. Taylor (Jerry) of Lusby, MD, and Lila Ridgell Hofmeister (Danny) of Ridge, MD; her grandchildren: Ryan Ridgell, Brady Ridgell (Caitie), Shea Ridgell (Stephanie), Reagan Ridgell, Jennifer O'Dell, Todd Taylor (Sherry), Katie Allen (Ian), Steven Taylor, Regi Hofmeister, Michael Hofmeister, Jeannie Hofmeister (Paul), Amy Mathews (Trevor), and J.C. Hofmeister; her great grandchildren: Shawn Ridgell, Lily Ridgell, Emma Peterson, Blaise Ridgell, Stone Ridgell, Emerson Taylor, Wyatt Taylor, Rilynn Taylor, Piper Taylor, Chesapeake Allen; and extended family and friends. In addition to her parents, she is preceded in death by her husband, Clarence "Buzzy" Ridgell and her son, Steven James Ridgell.

All services will be private.

In lieu of flowers, the family has requested that memorials be made in her name to the St. Michael's School Archangel Scholarship Foundation (ASFC), P.O. Box 211, Ridge, MD 20680.

Condolences to the family may be made at www.brinsfieldfuneral.com.