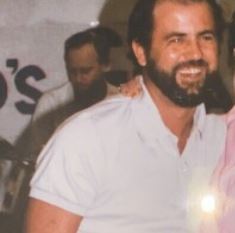 David Michael Julian, 65, of Mechanicsville, MD passed away on November 2, 2020 at his home.

Born on March 23, 1955 in Washington, DC, he was the son of Mary Ruth Hancock (Brady) and the late Michael Edward Julian.

David worked as a Maintenance Worker for the Department of Interior for 30 years. He was a dedicated and hard worker. He loved to be outside in nature, fishing or gardening. During football season he always rooted for his team, the Washington Redskins, and he adored putting Elvis on the radio to listen to. Most of all, David loved his family and the time he spent surrounded by them making memories. He also had a very special place in his heart for his dog, Jackie.

David is survived by his mother, Mary Ruth Hancock of Mechanicsville, MD, his sisters: Rose Lisa Schwarts of Rocklin, CA, Maryann Julian of Greensboro, NC and Karen Ambrose of Grass Valley, CA, as well as his loving uncles, aunts, cousins, nieces and nephews.

He is preceded in death by his father, Michael Edward Julian, his step-father, James Hancock, his grandparents: Van Brady and Ruth Brady, and his siblings: Van Julian, Toni Julian, Wayne Julian and Jacki Julian.

Family will receive friends for a visitation Thursday, November 5, 2020 from 5:00 pm to 8:00 pm at Brinsfield Funeral Home & Crematory, 30195 Three Notch Road, Charlotte Hall, MD 20622. A funeral service will be held on Friday, November 6, 2020 at 10:00 am at Brinsfield Funeral Home & Crematory. Interment will follow at Trinity Memorial Gardens.

In lieu of flowers, donations may be made to Hospice of St. Mary's, P.O. Box 625, Leonardtown, MD 20650 and/or American Cancer Society, 405 Williams Court Ste. 120, Baltimore, MD 21220.

Condolences to the family may be made at www.brinsfieldfuneral.com.

Arrangements by the Brinsfield Funeral Home & Crematory, P.A.