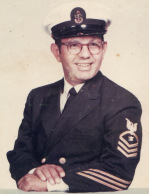 Richard Abraham (aka Rocco, Richy, Abe, Dick, Chief) passed away on October 24, 2020 in Washington, DC. He is survived by his wife, Margret Johnston Abraham, whom he married in 1959; his sons Michael Abraham, Richard Abraham, and Joseph Abraham; grandchildren Elizabeth, A.J., Meghann, and Jessica Abraham. Richard was born in Wilkes-Barre, PA on May 12, 1930 to Michael and Sadie Barrouk Abraham. He was predeceased by his parents and siblings June, Eddie, Catherine, and Joseph; and his best friend, cousin Joseph "Rico" Morrash.

Richard was a "first generation" American. His family were Orthodox Syrians who fled the great massacre of Christians by the Turks. Richard was baptized as a baby at St. Mary's Syrian Orthodox Church in Wilkes-Barre. Richard's mother, Sadie, died of pleurisy when he was 6 years old; his father, Michael, was a coal miner and died of black lung disease. Richard and his siblings grew up in extreme poverty, sometimes placed in orphanages when their father was ill. As a kid Richard set pins in a bowling alley and helped his godfather collect scrap metal to earn money. He attended Myers High School.

In 1949 Richard enlisted in the U.S. Army. He was stationed at Fort Lewis when he volunteered to go to Japan as a part of the post WWII occupation forces. When the Korean War broke out, his 25th Infantry Division, 27th Regiment was the second sent in to push back the North Koreans. Richard was on the front lines of the infantry; he saw his friend Scotty's head blown off; he was sitting beside his sergeant when a sniper killed him. Richard was awarded the Combat Infantry Badge, Occupation Medal (Japan), Combat Infantry Badge, (ROK) Republic of Korea Presidential Unit Citation, Korean Service Medal w/3 Bronze service stars, and United Nations Service Medal. He completed his Army service as a Corporal.

In 1954 Richard joined the U.S. Navy and became a "Tin Can" destroyer sailor, serving on the USS Delong; the USS M.C. Fox; the USS H.J. Ellison; and the USS Richard E. Byrd. During the Cuban Missile Crisis his ship purposely collided with a ship trying to breach the U.S. blockade. He completed his 20 years military service as a Chief Petty Officer.

Richard started his college education while in the Navy; when he retired he became a full-time student at Bloomsburg State College, earning a Masters in Education. He taught high school biology, earth sciences, and math.

In 1987, Richard and his wife returned to her home territory at White Point Beach, Leonardtown, MD. They loved to travel, criss-crossing the United States many times to see the national parks; then trips to Norway, Italy, France, Spain, Greece, and Bulgaria.

Richard felt that his greatest accomplishment was rising from child-hood poverty to a comfortable old age. He loved his sons and took pride in his long marriage to Margaret.

Richard has asked that memorial contributions be made to St. Jude's Children's Hospital, 501 St. Jude Place, Memphis, TN 38105, or to The Disabled Veterans of America, P.O. Box 14301, Cincinnati, OH 45250-0301. The family will hold a Memorial Gathering at the family home. His ashes will be buried at Arlington National Cemetery.