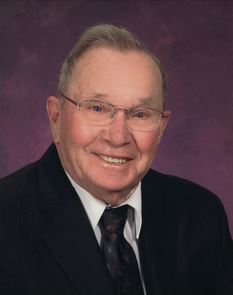 Joseph Emerson "Lindy" McKay, age 89 of Ridge, MD died October 28, 2020.

Born August 28, 1931 in Ridge, MD he was the son of Claude Ignatius McKay and Mary Beatrice Peacock.

He was dubbed with the nickname "Lindy" as a toddler. He was born around the time that Charles Lindburgh, the famous aviator who made the first solo flight across the Atlantic Ocean, had his son kidnapped. The proprietor of a store near Lindy's home started calling him "Little Lindy" and the nickname carried throughout his lifetime.

He attended Great Mills High School. Lindy joined the National Guard in 1951 and in 1952 was drafted into the U.S. Army. He trained at Camp Pickett, VA in infantry skills, marksmanship, survival and medical training. He was sent to Korea as a combat medic with the 224th Infantry Regiment at Punchbowl, SATAE-RI, Kumhwa and Chorwon Valley from May 1953 until April 1954. He was one of many who received a Korean War Service Medal and Letter of Appreciation from the President of the Republic of Korea, commemorating the 50th anniversary of the war and thanking him for his service to their country.

He was a member of American Legion Post 255, Ridge for 68 years and was an honorary life member. He was selected as Post 255 "Legionnaire of the Year" in 1994 and 2009. He served as Post Commander for two years and remained an active member, most recently serving on the Post Executive Committee until his illness.

He was a member of the Forty and Eight (40/8), Voiture Locale 456, a national veterans group dedicated to the needs of its fellowman raising funds and supporting various child welfare programs, nursing scholarships, aid to veterans, Americanism and the Carville Star.

Lindy was an avid ball player for many years. He played baseball and softball. In 1951 he was voted the most outstanding player in the Charles-St. Mary's County Baseball League for scoring the most home runs scored.

In October 1984 he was inducted into the St. Mary's Slow Pitch Softball Hall of Fame where his glove remains on display.

In recent years his primary interest was his grandchildren whom he loved dearly.

He is survived by his wife of 62 years, Shirley Ann Fenhagen McKay and their four sons, Joseph Warren "Herbie" McKay, Ridge, MD, Chris Dale McKay (Lori), Scotland, MD, Kevin Gerard McKay (Tina), Scotland, MD, and Kim Loubertus McKay, Scotland, MD and Kim's fiancé Karen White of Hollywood, MD; five grandchildren, Kayla Ann McKay, Kurt Anthony McKay, Kyle Robert McKay, Kole Harper McKay, and Conner "C.J." Little.

In addition to his parents, he was preceded in death by his sister Jean Lengel and two infant sons, triplet brothers of son Kevin.

The family will receive friends on November 5, 2020 from 5:00 to 8:00 p.m. at St. Michaels Church, Ridge, MD where prayers will be said at 7:00 p.m. followed by an American Legion service. A Mass of Christian Burial will be celebrated on November 6, 2020 at 11:00 a.m. at St. Michaels Church. Interment will follow in the church cemetery. Pallbearers will be: Kurt McKay, Kyle McKay, "C.J." Little, Ronnie Lengel, Leo Peacock, and Danny Raley.

In lieu of flowers, the family has requested that memorials be made in his name to the Ridge Volunteer Rescue Squad, P.O. Box 456, Ridge, MD 20680 or Hospice of St. Mary's, P.O. Box 625, Leonardtown, MD 20650.