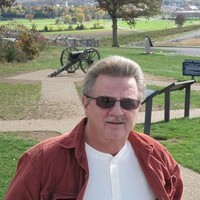 Roger Lee Atchinson, 69, of La Plata, MD departed this life on Saturday, October 24, 2020 at his home with his loving wife by his side.

He was born on June 10, 1951 in Washington, DC to the late Robert L. Atchinson and Eva (Moreland) Atchinson.

Roger enlisted in the United States Army in July, 1968. A proud American, he was decorated for his accomplishments. Roger met the love of his life, Linda, and they've been married for over 24 years. Roger was a pipefitter/steamfitter for the U.S. Government prior to his retirement in 1990.

Although Roger struggled with his health the last few years, he was a man who enjoyed simple things with his family. Listening to his "oldies" music with his loving wife and reminiscing about the good ole days. Roger loved to dance and loved to have fun. He made sure everyone was having fun. He always said he was a rich man with all the friends that he had. Family was a number one priority for Roger and if you knew him you knew all about his loved ones. A man with a strong work ethic and heart of gold, Roger would give you the shirt off his back and never ask for anything in return.

Roger is survived by his wife, Linda Atchinson, of LaPlata, MD and sisters Leona Jacobs (Lavern) and Jeanette McIlwee; many nieces, nephews and extended family. He was preceded in death by his son, Christopher L. Atchinson of LaPlata, MD; parents, Robert and Eva Atchinson and siblings, Robert L. Atchinson, Jr., James W. Atchinson, Marvin Atchinson, Lewis Atchinson, and Evelyn Bowie (Wayne).

The family will receive friends for Roger's Life Celebration on Sunday, November 1, 2020 from 2:00 p.m. to 4:00 p.m. at Brinsfield Funeral Home & Crematory, P.A., 30195 Three Notch Road, Charlotte Hall, MD 20622. Interment will be private.

Condolences to the family can be made at www.brinsfieldfuneral.com

All arrangements have been made at Brinsfield Funeral Home & Crematory, P.A., Charlotte Hall, MD 20622.