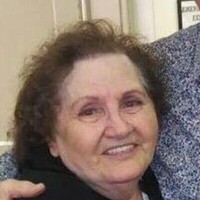 Linda Kathleen Aicher, 82, of Mechanicsville, MD passed away peacefully on Wednesday, October 28, 2020, at her home surrounded by her loving family.

Linda was born on September 27, 1938, in Trenton, New Jersey, to the late Albert Feole and Linda (Perci) Feole.

Always one to follow her heart, Linda met and married her forever love, Kenneth Aicher and together they celebrated over 39 years of marriage before his passing in 2003. Together, they raised six (6) children, Cyndi, Vicki, Kenney, Brian, Stacy and Jennifer.

She was a wonderful woman who loved her family. She adored having everyone together for a family dinner. Besides her love of cooking, Linda loved The Waltons, especially John Boy (Richard Thomas), and her visits to Walton's Mountain. She made some very dear friends there. Linda loved music and dancing. She was crazy about Elvis and The Jersey Boys, especially Tommy (Vincent Piazza). Linda was proud of her beautiful family and the love that has been passed down for generations. She found great joy in the laughter and bright eyes of her beloved grandchildren and great grandchildren.

Her bright smile and quick wit will be dearly missed. To know Linda was to know a kind, loving soul. Memories of her inherent joy will last a lifetime for her family and friends.

Linda is survived by her six (6) children, Cynthia Aicher Madewell (Rodney) of Leonardtown, MD, Victoria Aicher Norris (Chris) of Leonardtown, MD, Kenneth Aicher, Jr. of Leonardtown, MD, Brian Aicher, Sr. of Mechanicsville, MD, Stacy Lynn Aicher (Kevin) of Little Torch Key, FL and Jennifer Lynn Aicher (Jeffrey) of Mechanicsville, MD; fourteen (14) grandchildren, Jessica, Alyssa, Kayla, Corey, Christopher, Stephen, Becky, Kenney, Erica, Nicole, Brian, Meghan, David and Haley; and sixteen (16) great-grandchildren. Her brother, Albert Feole and many loving nieces and nephews. She was preceded in death by her husband, Kenneth Aicher, Sr., her parents, Albert and Linda Feole, her sisters, Virginia, Dee and Debi; and her brothers, Buzzie and Earl.

A graveside service will be held on Saturday, October 31, 2020 at 1:00 p.m. and officiated by Pastor Paul MacPherson at Queen of Peace Cemetery, 38888 Doctor Johnson Road, Mechanicsville, MD 20659.

In lieu of flowers, the family is requesting donations to be made to the caretakers of their beloved mother/grandmother, https://gf.me/u/y6w7mw.

Condolences to the family may be made at www.brinsfieldfuneral.com

Arrangements by the Brinsfield Funeral Home & Crematory, P.A., Charlotte Hall, MD.