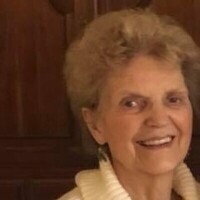 Mary Anne Hammett, 89 of Valley Lee, MD passed away peacefully at home on Thursday, October 22, 2020 surrounded by her loving family.

She was born on March 21, 1931 in Leonardtown, MD to the late John Stephen Lynch Sr. and Rose Helena Aud.

Seventy years ago on January 26, 1950 she married her high school sweetheart (and "hunk" as she called him) Orem at St. George Catholic Church. They were in the process of building their present home when he was called to duty in Korea. He still remembers being on the roof and seeing her running down the field crying with his deployment papers in her hand. They wasted no time starting a family upon his return and their small home was continuously enlarged.

Mary Anne loved her family, friends and church. She spent her life giving to others. Known to her grandchildren as Pom, she made each feel as if he or she was her favorite.

Mary Anne delivered Meals on Wheels for over 45 years and was a member of the Valley Lee Homemakers Club which played Bingo with the residents of the St. Mary's Nursing Home for over 20 years. She attended daily Mass at St. George Catholic Church. Mary Anne was a gifted artist, an avid reader, a great cook, and an amazing gardener.

In her younger years she and Orem traveled throughout the United States (mainly to escape their growing brood) and later with them. She and her sisters traveled to Lourdes, France; Fatima, Portugal; Knock, Ireland and Bermuda, UK.

Mary Anne is survived by her husband, Alfred Orem Hammett Sr. of Valley Lee, MD; children: Deborah Olsen Ford (Dale) of California, MD; Alfred Orem "Rocky" Hammett Jr. of Valley Lee, MD; David Hammett (Lucy) of Valley Lee, MD; and Laura Hammett of Drayden, MD; siblings: Robert Lynch (Janice) of Valley Lee, MD; Margaret Bridgewater of Leonardtown, MD; Virginia Royston (Joe) of Valley Lee, MD; sister-in-law Dolores Lynch of Compton, MD; grandchildren: Tabitha Geary-Tate (Jason), Nathan Edinger (Casey), Brian Hammett, Crissy Herron (Justin), Chad Olsen (Emily), Ashley Hammett, Lauren Oliver (Nick), Brady Quigg, Colin Quigg and Mary-Beth Heindel (Zach); great-grandchildren: Michael Geary, Jonathan Geary, Christian Geary, Morgan Geary, Bella Geary, Ainsley Tate, McConnell Tate, Blake Edinger, Kobe Edinger, Sasha Edinger, Tori Edinger, Aiden Edinger, Eva Olsen, Benjamin Olsen, Kelley Hammett, Melanie Hammett, Brooke Hammett, Natalie Hammett, Bradley Harmon, Jenna-Dee Heindel, Bentley Heindel, Camden Oliver, Lily Hill, Madison Herron, Henley Herron, Scarlett Herron; and a grand-dog, Bailey who comforted her during her final illness.

She is preceded in death by her parents, her daughter, (Carol) Annette Quigg; her sister, Olive Belle Gagliano; brothers, John Stephen Lynch Jr. and Thomas Eugene Lynch; daughter-in-law, Linda Hammett, son-in-law, Rick Quigg; and grandson-in-law, Matthew Geary.

Family will receive friends on Tuesday, October 27, 2020, from 10:00 a.m. to 11:00 a.m., with a Mass of Christian Burial celebrated by Rev. Paul Nguyen, at 11:00 a.m., at St. George's Catholic Church, 19199 St. George's Church Road, Valley Lee, MD 20692. Interment will be held at a later date.

The Funeral Mass will be streamed live.

In lieu of flowers memorial contributions in memory of her daughter Annette Quigg may be mailed to the National Brain Tumor Society, 55 Chapel Street, Suite 200, Newton, MA 02458.

Condolences to the family may be made at www.brinsfieldfuneral.com.

Arrangements by the Brinsfield Funeral Home, P.A.