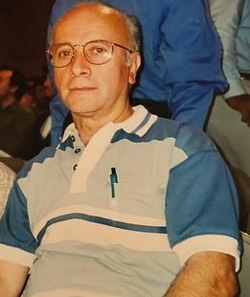 Donato Antonio Casarella, 77, of Lusby, Md. passed away on October 19, 2020 at his residence.

Born September 30, 1943 in Italy, he was the son of the late Giuseppe Casarella and Incoronata Gerarda (Procaccino) Casarella. Donato was employed as a barber at East Pines Barber Shop for over forty years, retiring in April 2019.

Donato is survived by his wife Giovanna Casarella whom he married on January 5, 1969 in Torino, Italy; his children, Giuseppe Casarella (Maureen) of Huntingtown, Md., Christina Casarella of Lusby, Md. and Stephen Casarella of Prince Frederick, Md.; grandchildren, Giuseppe Casarella, Nicole Casarella, and Emily Casarella; and siblings, Carmela Troisi of Torino, Italy, and Anna Casarella of Torino, Italy. He was preceded in death by his brother, Vito A. Casarella of Glenelg, Md.

Family will receive friends on Thursday, October 22, 2020 from 5:00 p.m. until 7:00 p.m. at Rausch Funeral Home, 20 American Lane, Lusby, Md. A Mass of Christian Burial will be conducted by Rev. John T. Dakes on Friday, October 23, 2020 at 11:00 a.m. at Jesus the Divine Word Church, 885 Cox Road, Huntingtown, Md. 20639. Interment will follow in Jesus the Good Shepherd Cemetery, Owings, Md.

Condolences to the family may be made at www.rauschfuneralhomes.com.