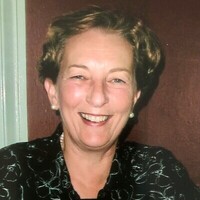 Suzanne Henderson Hall, 75, of Gulf Breeze, FL (formerly of Leonardtown, MD) passed away peacefully at hospice on October 17, 2020 after a short but courageous battle with Stage 4 colon cancer.

She was born on September 10, 1945 in Washington, DC to the late Joseph Henderson and Suzanne (Smith) Henderson.

Suzanne ran her family's business, Southern Maryland Supply, in Leonardtown until it was sold in 1994. She continued working in the plumbing supply business until her retirement in Florida in 2009. After retirement, she loved to keep busy and enjoyed volunteering for several organizations including Panhandle Butterfly Home and Pensacola Humane Society. The love she had for God's creatures was evident in the way she rescued strays. She knew with a little love and caring all animals could make wonderful pets.

A beautiful, kind and loving woman, she was adored and loved by her family and friends. Her many friends and tenants from over the years tell stories of how Suzanne made a lasting impact on their lives by lending a helping hand or a caring ear during difficult times in their life.

The light of Suzanne's life were her three grandchildren. She loved teaching them about butterflies and taking them to the beach to hunt for the perfect seashell. Suzanne's last words were to tell each child individually how much she loved them.

If you knew Suzanne, you know a special woman has left us behind, but if you see a butterfly flutter past, know she is close by and her love is everlasting.

Suzanne is survived by her daughter, Jennifer Turney (Bryan) of Greenville, SC and three (3) grandchildren, Amelia Grace, Emmeline and Andrew. She was preceded in death by her parents, her husband of 45 years, Hugh, brother, John Henderson and aunt, Dorothy Asbury.

The family will receive friends for Suzanne's Life Celebration on Friday, October 30, 2020 from 9:00 a.m. to 10:00 a.m. with a Funeral Service on 10:00 a.m., October 30, 2020, officiated by Rev. Greg Syler at Brinsfield Funeral Home, 22955 Hollywood Road, Leonardtown, MD 20650. Interment will be held immediately following at Christ Church, 3100 Broomes Island Road, Port Republic, MD 20676.

In lieu of flowers, the family requests you make a donation to the Pensacola Humane Society https://www.pensacolahumane.org/ or Covenant Hospice Care https://www.choosecovenant.org/donate-now/.

Condolences to the family may be made at www.brinsfieldfuneral.com

Arrangements by the Brinsfield Funeral Home & Crematory, P.A., Charlotte Hall, MD.