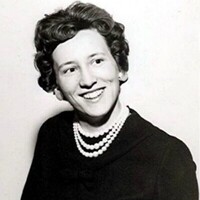 Dorothy Mae Bowling, 83, of Hughesville, MD passed away on October 16, 2020 at her home.

Born on January 24, 1937 in Kewaunee, WI, she was the daughter of the late Hillary Seidl and Sylvia Christine Heim.

Dorothy married the love of her life, George McPherson Bowling, on November 10, 1956 and they spent 56 wonderful years of marriage together. Eventually, they grew their family with four (4) children whom they loved with all their hearts.

After graduating high school, Dorothy went on to attend two (2) years of college to become a nurse and worked at Physicians Memorial Hospital until deciding to stay home to raise her children. Later, she took on a second career as an Assistant Manager at the Bank of Southern Maryland. After retirement, she became a full-time caregiver for her great-grandchildren, Louie and Andrew. She loved her family more than anything and was happiest when surrounded by her children, grandchildren, and great-grandchildren. Dorothy cast a bright light on this world and she will always be remembered through the precious memories she made with her friends and family.

She is survived by her children: Catherine C. Jordan (Ed) of La Plata, MD, Mary T. Keyes (Stephen) of Hughesville, MD, George M. "Mac" Bowling, III (Barbel) of Hughesville, MD and Harry R. "Ricky" Bowling, II of Mechanicsville, MD; her siblings: Christine Winchel (Leo) of Twin Lakes, MI and Carl Seidl of Lakeland, FL; as well as seven grandchildren and four great-grandchildren.

In addition to her parents and loving husband, Dorothy is preceded in death by her siblings: Arnold Seidl, Kathleen Cooper, and John Seidl.

Family will receive friends on Thursday, October 22, 2020 for a visitation from 10:00 a.m. to 11:00 a.m. with a funeral mass at 11:00 a.m. at St. Mary's Bryantown Catholic Church, 13715 Notre Dame Place, Bryantown, MD 20617. Interment will follow in the church cemetery.

Memorial contributions may be made to St. Mary's Bryantown, 13715 Notre Dame Place, Bryantown, MD 20617; Hospice of Charles County, 2505 Davis Road, Waldorf, MD 20603; or, Hughesville Fire Department, 15245 Prince Frederick Road, Hughesville, MD 20637.

Condolences to the family may be made at www.brinsfieldfuneral.com.

Arrangements by the Brinsfield Funeral Home & Crematory, P.A.