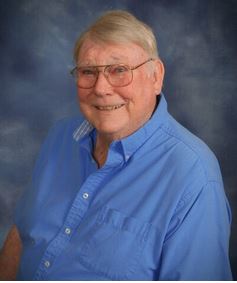 ETCM James Cowell "Jim" Russell, USN (Ret.), 82, of Great Mills, MD passed away on October 11, 2020 at MedStar St. Mary's Hospital in Leonardtown, MD.

He was born on October 3, 1938 in Norwich England to the late James Walker Russell and Elsie Cowell Russell.

In May of 1955, Jim and his family immigrated to the United States of America at the age of 16 and became a naturalized U.S. Citizen of which he was extremely proud. He resided in Detroit, Michigan until enlisting in the United States Navy in January 1957 and proudly served his country as active duty military for 23 years until his retirement in 1978. During his service he earned the position of Master Chief Petty Officer. He served aboard the nuclear submarines the USS Nathaniel Greene, USS Trout and USS James Madison as well as other Submarine groups. In 1967, he married the love of his life, his beloved wife, Sharon Louise Russell in Charleston, S.C. Together they celebrated over 37 wonderful years of marriage raising a family and traveling and enjoying many adventures. After retiring from the Navy, he worked as a Civil Servant for the United States Army as well as multiple Contractors. His work accomplishments included the Air Force One Presidential Pilot Program, supporting the Pentagon, the Army Cryptological Operations and at NSA as a dedicated Program Manager for many years.

Jim was a person who enjoyed learning and earned a Master's Degree as well as multiple Bachelor of Science Degrees. He was an avid classical music enthusiast and wine connoisseur and particularly enjoyed a good red wine, Single Malt Scotch and watching classic James Bond and John Wayne movies and football. He enjoyed grilling and travelling around the globe in his younger years. He travelled throughout the world, but particularly loved trips to Germany and travelling down the Rhine River. He loved the ocean air and being by the water of any kind. His love of God, his family and his Country were the cornerstone of his life. He took great joy in his grandchildren and supported and encouraged them in all their accomplishments.

He was a member of St. John Francis Regis Catholic Church and a 4th Degree Knight of the Knights of Columbus Council 7914; Lifetime Member of Elks Lodge 2092, American Legion, Lifetime Member of VFW and past member of the Moose Lodge.

Jim is survived by his children: Kellie L. Daniel (Bruce) of Hollywood, MD, Scott C. Russell (Melissa) of California, MD, and Pamela L. Riley (Kevin) of Prince Frederick, MD; his grandchildren: Brent Russell Daniel (Michelle), Dana Kathleen Daniel, Shelby Colleen Daniel, William Alexander Russell, and Kelly Megan Riley; his companion of ten years, Joan Caruthers; and many extended family and friends. In addition to his wife and his parents, he is also preceded in death by his siblings, Judith Harrington and John Russell, and his beloved sister-in-law, Patricia Lumsden.

Family will receive friends on Sunday, October 18, 2020 from 3:00 to 5:00 p.m., with prayers at 4:00 p.m. at Brinsfield Funeral Home, P.A., 22955 Hollywood Road, Leonardtown, MD 20650. A Mass of Christian Burial will be celebrated by Reverend Raymond F. Schmidt on Monday, October 19, 2020 at 11:00 a.m. at St. John Francis Regis Catholic Church, 43927 St. Johns Road, Hollywood, MD 20636. Interment will immediately follow at the church cemetery.

Serving as pallbearers will be Scott C. Russell, Bruce J. Daniel, Brent R. Daniel, William A. Russell, Kevin Riley and Tony Caruthers.

Memorial contributions may be made to ACTS, P.O. Box 54, Bushwood, MD 20618.

Condolences to the family may be made at www.brinsfieldfuneral.com.

Arrangements by the Brinsfield Funeral Home, P.A.