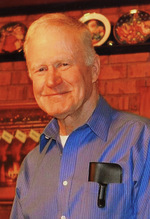 Thomas Gene Dillon, "Matt", 87, of Hollywood, MD passed away on October 6, 2020 in Leonardtown, MD. He was born on May 1, 1933 in Nebraska. Thomas was the loving son of the late Veva Carson Dillon and Thomas Dillon. Thomas was the loving husband of Judy Dillon whom he married on January 20, 1998 in Leonardtown, MD. He is survived by his children, Dawn Roe, Chris Cox, FL, Clay Cox, MD, Nathan (Debbie) Cox, Port Republic, MD, and Crystal (Steve) Swaney, California, MD, grandchildren, Shawn Wood, Jessica Wood, and Alex Cox, niece, Roxy Case and nephew, Steve (Carolyn) Lorensen. He was preceded in death by his siblings Darleen Case and Demaris Odland.

Thomas graduated from Pilger High School in 1950. He served in the United States Navy for 27 years, retiring as a Senior Chief on November 15, 1979. While enlisted he was stationed in San Diego, CA, Hutchinson, KS, Whidbey Island, WA, Moffett Field, CA, Oceana, VA, Miramar, Ca, Rota, Spain, and Pax River, MD.

The family will receive friends on Monday, October 12, 2020 from 5:00 PM to 6:00 PM in the Mattingley-Gardiner Funeral Home. A Funeral Service will be held at 6:00 PM in the Funeral Home Chapel with Father David Beaubien officiating. Interment will take place in Fulton South Dakota at a later date.