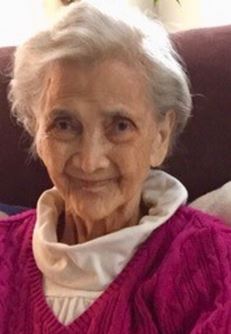 Perla Johnson Manalo, 85, of Great Mills, MD passed away on October 4, 2020 at her home surrounded by her loving family.

She was born in Lubao Pampanga, Philippines to the late Peter Johnson and Tranquilina Morales. She arrived in Maryland in April 1989.

Perla married her husband, Severino Manalo on July 15, 1955. They were married for 56 years before his passing in January 2012.

She was the first grandchild of George and Rufina Johnson. She was the apple of her Grandma Rufina's eye. She was raised by her mother and grandmother. Perla was an obedient granddaughter, virtuous daughter, good wife, and an excellent mother to her 7 children. One of Perla's best qualities was her generous heart. Perla was also an excellent cook. She enjoyed making her family happy by cooking their favorite dishes.

She was a remarkable woman and an exquisite beauty. In her youth, she often turned a lot of heads. She had the most beautiful hands. She loved her children unconditionally. During periods of financial hardship when food was scarce, though breastfeeding or pregnant, she would willingly give her children the last morsel of bread meant for her. She was a skilled self-taught seamstress that sewed clothes of her own design for her children, and often completed alterations and repairs. No matter the weather, Perla would walk quite a distance beneath her worn-out umbrella to the open market and purchase fresh food for her family. She loved bright colors and created her own recipes.

God must have known her delight was in her family and graced her with seven beautiful children, eight grandchildren, and ten great grandchildren. Even when she was sick towards the end of her life, the evidence of her considerable character was exhibited by her humble and gentle spirit. Very seldom did she complain about her pain. Her genuine love, her kindhearted spirit, and sense of humor made it easy for her daughters and family to care for her during her declining years.

Perla was blessed with the gift of good humor. According to her eldest daughter, taking care of her Mom was a delight because she always had some hilarious remark to say about everyday life. She was incredibly courageous, she fought a good fight, trusting and resting in God throughout her illness. She was confident in God's love and never lost faith in His healing power. Perla's kind and giving heart, her deep love for God, rich sense of humor, enduring strength, and patience are a legacy that her family will treasure forever. Jesus truly developed the fruit of the Holy Spirit in her.

Her family consider it a privilege to have known a beautiful soul such as hers. She will always live in their hearts. She will be missed by them immensely, but they know that she is well taken care of now, dancing and laughing in God's heaven without the need of a wheel chair or walker. This world was never meant to be a final home for one so beautiful as Perla. By faith, because of Jesus's wondrous love, they will be reunited with her again.

Perla is survived by her children: Terry Curry (Jim) of Lexington Park, MD, Ron Manalo of Falls Church, MD, Bernie Manalo of Great Mills, MD, Gerry Manalo of Great Mills, MD, Leni Manalo of Great Mills, MD and Noemi Manalo of Lexington Park, MD. In addition to her parents and husband, she is also preceded in death by her son, Noel Manalo and grandson, Patrick Manalo.

Family will receive friends on Friday, October 9, 2020, 9:00 to 10:00 a.m., with a Funeral Service by Pastor Lanny Clark at 10:00 a.m., at Brinsfield Funeral Home, P.A., 22955 Hollywood Road, Leonardtown, MD 20650. Interment will follow at 11:00 a.m. at Charles Memorial Gardens in Leonardtown, MD.

Serving as pallbearers will be James Curry, Jeremy Shultz, Ron Manalo, Bernie Manalo, Gerry Manalo, and Keane Flores.

In lieu of flowers, donations can be made to St. Mary's Hospice, P.O. Box 625, Leonardtown, MD 20650 or the Cancer Care Infusion Services (CCIS), P.O. Box 527, Leonardtown, MD 20650.

Condolences to the family may be made to www.brinsfieldfuneral.com.