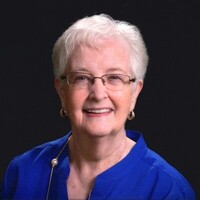 Eileen Havens Bodkin, 85 of California, MD, passed away on October 2, 2020 at her daughter's home with her loving family at her side.

Eileen was born on February 16, 1935 in Delaware County, PA to the late Louis C. Havens and Marie E. Killoran Havens. The majority of her years were spent living in Mt. Laurel, NJ.

Eileen grew up in Upper Darby, PA graduating high school from the Notre Dame Academy. After high school Eileen entered the workforce as a secretary. Family and friends were very important to Eileen. Friendships she made in her early work years persisted to her death. Planning family gatherings ensuring everyone had their favorite food or drink was an endearing quality. Eileen was an accomplished pianist, at one time encouraged to pursue piano professionally. She was an avid reader. In her later years she became an avid Eagles fan. Her love of fashion, putting together a stylish outfit, especially if there was a good sale, was a joy for her that she shared with her children and grandchildren.

Eileen is survived by her children: Marie McPartland (Jim) of Leonardtown, MD, John Bodkin of Mt. Laurel, NJ and Kathleen Morgan (Kim) of Saint Leonard, MD and 4 grandchildren: Katherine McPartland of Mechanicsville, MD, Shannon McPartland of Lexington Park, MD, Matthew Doxzon and Megan Doxzon both of St. Leonard, MD. She was preceded in death by her parents and her brothers Louis C. Havens and Thomas Havens.

The family will receive friends on Thursday, October 8, 2020. A funeral mass will be held at St. John Neumann Church in Mt. Laurel, NJ at 1130 AM. Interment will follow at Holy Cross Cemetery in Yeadon, PA.

Memorial contributions may be made in lieu of flowers to the American Heart Association.

Condolences to the family may be made to www.brinsfieldfuneral.com.

Arrangements by the Brinsfield Funeral Home, P.A.