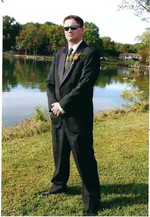 Adam Robert Bean,38, of Valley Lee, MD passed away on October 1, 2020 at his residence. He was born on January 28, 1982 in Leonardtown, MD and was the loving son of Diann Lynn Davis Bean, of Huntington, NY and Robert Ambrose Bean, Sr. of Valley Lee, MD. Adam is survived by his brothers Robert Bean, Jr. of California, MD, Stephen R. Bean of Honolulu, HI, and nephew Logan R. Bean. Adam was preceded in death by his brother Joseph R. Bean. He was a life long St. Mary's County, MD resident. Adam graduated from Leonardtown High School in 2000 and was a Fire Alarm Technician.

Adam enjoyed; basketball, civil war history, and working outside. He was a music lover and sports fan. Most of all, Adam loved being with his family.

The family will receive friends on Thursday, October 8, 2020 from 5:00 Pm to 8:00 Pm in the Mattingley-Gardiner Funeral Home Leonardtown, MD. Funeral Services and Interment will be private. Serving as pallbearers will be Robert A. Bean, Jr, Logan R. Bean, Devon Bean, and Stephen R. Bean.

Contributions may be made to A Community That Shares (ACTS) P.O. Box 54 Bushwood, MD 20618.