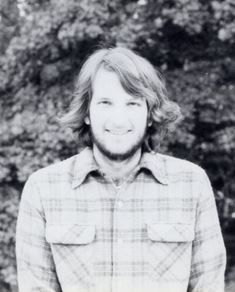 Glenn William Johnson, 59, of Woodbridge, VA, formerly of Leonardtown, MD, died Saturday, September 19, 2020 at Hospice of St. Mary's in Callaway, MD, after battling lung cancer, despite never smoking. He was born on October 23, 1960 to the late Elaine M. Cryer Johnson and Edwin P. Johnson, Jr., in Leonardtown, MD.

He graduated from Father Andrew White, SJ School in 1974, Ryken High School (now St. Mary's Ryken) in 1978, and St. Mary's College of Maryland in 1982, with a B.A. in Art. Throughout most of his life, beginning at an early age, he worked on the family tobacco farm. Like all children of tobacco farmers, he carried with him a steel self-discipline and work ethic throughout his life, and it served him well in his endeavors.

Upon graduating from college he took a 3-month trip, backpacking through Europe, and staying in youth hostels. He traveled throughout Great Britain, The Netherlands, where Amsterdam was a favorite, and Sweden. He developed a lifelong love of all things Scandinavian, and virtually his entire home was styled in Ikea.

His first professional working experience was an internship at the St. Mary's City Commission while still attending St. Mary's College, where he began applying his artistic talents to the creation of public displays and exhibits and educational materials among others.

He worked for several years for County employers, including a stint at St. Mary's Press, and Tracor, where he found many new friends, and bought his first home, a condo in Wildewood. He eventually concluded that the work he wished to do in computer graphics was not to be found in St. Mary's, and so he moved to Northern Virginia to expand his career opportunities.

He rented rooms in a number of areas around Northern Virginia to follow the jobs he wanted, eventually deciding to make a permanent home for himself in Woodbridge, VA. He continually sought to advance his skills and experience and would change jobs to do so. He worked for many federal contractors throughout his career, and at the time of his death, was supporting the National Geospatial Intelligence Agency as an IT Animator, a dream position he had finally attained.

He loved animals, particularly dogs and cats, but especially cats, and had many pets over time. He felt deeply for old cats who had become homeless and were less likely to find a new home than their more attractive, spry, playful young competition. He inherited his mother's artistic talent and great love of traveling, and his father's sense of humor and appreciation of music. He was intrepid, forever curious, kind, joyful, and well-loved by many. He is survived by his older brother, Edwin P. "Ed/Eddie" Johnson, III, and his sister-in-law, Susan Michaud Johnson, of Mechanicsville, MD; their daughter, his beloved niece, Sara Lynn Johnson, of Santa Monica, CA; his older sister, Janice Ann Johnson, of Leonardtown, MD; and many cousins, and dear friends. He was also preceded in death by his grandparents, Rhodie and Marie Schulze Cryer of Washington, D.C. and St. Clement's Shores in Compton, MD, and Edwin P. Johnson, Sr. and Florine Raley Johnson of Clements, MD.

Family will receive friends for Glenn's Life Celebration on Thursday, September 24, 2020 from 5:00 to 8:00 p.m. with a prayer service at 7:00 p.m., at Brinsfield Funeral Home, 22955 Hollywood Road, Leonardtown, MD 20650. A Funeral Service will be held on Friday, September 25, 2020 at 10:00 a.m. at Brinsfield Funeral Home. Interment will follow at 11:00 a.m., at Charles Memorial Gardens, 26325 Point Lookout Road, Leonardtown.

In lieu of flowers, memorial contributions may be made to Hospice of St. Mary's, P.O. Box 625, Leonardtown, MD 20650, Leonardtown Volunteer Rescue Squad, P.O. Box 299, Leonardtown, MD 20650, or any animal support organization such as ASPCA, 10819 Courthouse Drive, Fredericksburg, VA 22408, Animal Welfare League, P.O. Box 1232, Leonardtown, MD 20650, or Feral Cat Rescue, P.O. Box 623, Leonardtown, MD 20650.

Pallbearers for Glenn will be Mickey Dillow, Jeff Brown, Tom Wible, David Adams, Vince Marshall and Tom Russell.

Condolences to the family may be made at www.brinsfieldfuneral.com.

Arrangements by the Brinsfield Funeral Home, P.A.