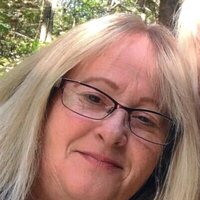 Cheryl Ann Quade, 50, of Bushwood, MD passed away on September 19, 2020 at her home unexpectedly.

Born on December 30,1969 in Washington, DC. She was the loving daughter of the late John Franklin Mullikin and the late Barbara Lee (Huntington) Mullikin.

Cheryl married her best friend and soulmate, Jerry Lee Quade in April 18, 2011. Together they've shared over nine (9) years of marriage. She was the proud mother of son, Jordan Osborne and step-daughter, Brooke Quade.

Cheryl worked to help support her family as a receptionist and then assistant at Companion Care Veterinary Hospital in Mechanicsville, MD. She enjoyed working with the animals and her coworkers. Never feeling like she had to go work but thinking she was getting to spend her time with friends.

A woman who cherished her family and spending time with them, she enjoyed nothing more than just chillin' with her family and friends. It could have been at a campground, her backyard or her living room and she was just happy to be surrounded by love. The happiness she found outdoors was evident in the joy she experienced while camping or dropping a line in the lake fishing. She could spend hours outdoors with her husband soaking up the sunshine and peace. Cheryl didn't always want to be outside and she enjoyed a day of shopping and looking for a great deal. She was a woman of many hobbies and she lived her life to the fullest.

A wife, mother, sister, friend and amazing woman has gone on to enjoy her golden palace. She will be missed by many but none as much as her family. Her spirit and love of life will be remembered and passed on for generations.

Cheryl is survived by her husband, Jerry Quade of Bushwood, MD; son, Jordan Osborne of Bushwood, MD, step-daughter, Brooke Quade of Waldorf, MD; sister, Terry Warner (Peter) of Port Tobacco, MD and nephew, David Rasnake, Jr. of LaPlata, MD. She is preceded in death by her parents.

The family will receive friends for Cheryl's Life Celebration Visitation on Saturday, September 26, 2020 from 2:00 p.m. to 4:00 p.m. at the Brinsfield Funeral Home & Crematory, P.A, 30195 Three Notch Road, Charlotte Hall, MD 20622. Interment will be private.

Condolences to the family made be made at www.brinsfieldfuneral.com

All arrangements have been made by Brinsfield Funeral Home & Crematory, P.A., Charlotte Hall, MD.