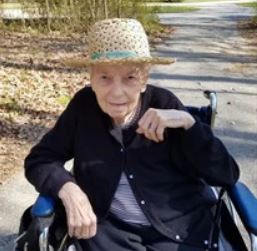 Mary Cathrine Fighera, 93, of La Plata, Maryland, passed away at home on Monday, September 14, 2020. Mary was born June 8, 1927 in Brooklyn, New York to Michael and Isabella Vigilante. She was preceded in death by her parents, older sister Grace, and husband.

Mary completed a commercial course in textiles at Girls Commercial, New York. She later worked as a secretary and typist including at the Dow Chemical Company in New York. She met her husband, Vincent Louis Fighera, and married in 1955. Mary and Vinnie lived first in West Hempstead, New York, then moved to Cherry Hill, New Jersey, and relocated to Crofton, Maryland in 1969. After becoming a parent in 1961, Mary worked as a mother and homemaker and then returned to administrative work for intermittent periods once her children were in secondary school. In 2010, Mary and Vinnie moved to the La Plata home of their son, Vince.

Throughout her life she was an active wife, mother, and philanthropist. She loved cooking, dining, dancing, and throwing parties with family and friends. Mary enjoyed church and community activities, baking, sewing, making clothing, bowling, and a wide variety of crafts. Her happiest times were spent traveling abroad with her husband, seeing sights and taking pictures to document their journeys.

Mary is survived by her two beloved sons, Vincent J. Fighera and Louis M. Fighera, and numerous nieces and nephews.

Graveside services will be held Tuesday, September 22, 2020 at 11:00 AM at Our Lady of the Fields Roman Catholic Church in Millersville, Maryland.

In lieu of flowers, donations in her memory may be made to Our Lady of the Fields Roman Catholic Church (ourladyofthefields.org).