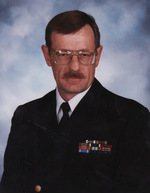 Stephen "Steve" Alfred Cobb, 70, of Hollywood, MD formerly from Newkirk, OK, passed away on September 12, 2020 in Washington, DC. He was born on February 16, 1950 in Ponca City, OK; and was the son of the late Beverly Jane Cobb and Earl Lynn Cobb. Steve was the loving husband of Shirley Cobb, whom he married on June 30, 1974 in Norfolk, VA. Steve is survived by his son Matthew Cobb of Hollywood, MD. Siblings; Lynne Ivie of Montezuma, Ga, Karen Hobson of Willingboro, NJ, Mary Ellen Riddick of Salinas, CA, Howard Cobb of Summerville, SC, and Russell Cobb of Newkirk, OK.

He graduated from Newkirk High School in 1968 and earned an Associate in Science from Florida Junior College in Jacksonville, FL.

Steve joined the United States Navy on June 16, 1970. While serving in the United States Navy he earned the National Defense Service Medal (2nd), Good Conduct Award (3rd.) for period ending 07 April 83, Qual M14 Rifle (5) (S) in course "B", Qual .45 Cal. Pistol (S) "A" Course, Sea Service Deployment Ribbon (6th.) for period ending 07 Jun 81, COMSIXTHFLT Letter of Commendation, Meritorious Unit Commendation Ribbon(2nd.), Navy Commendation Medal and Navy Unit Commendation (2nd.). Along with earning; Armed Forces Expeditionary Medal, Armed Forces Service Medal, North Atlantic Treaty Orginazation Medal, Navy "E" Ribbon (2nd), and Navy and Marine Corps Commendation Medal (5th.). He retired on March 1, 1999.
After retiring from the U.S. Navy, he was an F18 Configuration Manager for U.S. Navy PMA-265 for 21 years, retiring in December of 2019.

The family will receive friends on Monday, September 21, 2020 from 1:30 PM to 2:30 PM in the Mattingley-Gardiner Funeral Home Leonardtown, MD. A Funeral Service will follow at 2:30 PM in the Funeral Home Chapel with Pastor Dan Moore officiating. Interment will be held at a later date in Arlington National Cemetery Arlington, VA.