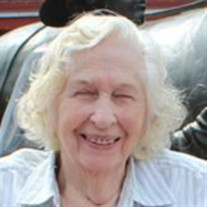 Patricia Ann Cook of Port Tobacco, MD formerly of Huntingtown, MD passed away on Monday August 31, 2020 at the age of 91. She was born December 3, 1928 in Arnold, Pennsylvania to Doris and Harry Undercoffer. Her sister (Marilyn Sydnor) currently lives in South Dakota.

Patricia was married for over 72 years to Albert Cook Sr. and was devastated when he passed away in March of 2016. She was the loving mother to Ellen Belfield of Welcome, Maryland and Albert Cook Jr. and Phyllis McGown who preceded her in death. Patricia was a devoted grandmother to Bryan, Daniel, Justin, Kimberly, Marshall and Wendy; great-grandmother of nine and great-great-grandmother of three children.

After moving to Huntingtown, Patricia and "Cook" became school bus drivers for over fifteen years which gave them an opportunity to have positive daily interaction with hundreds of children of all ages in northern Calvert County.

Patricia liked to sew and knit various things for herself and as gifts for family members. She enjoyed keeping handwritten records of dates and events in her life, she had a memory that was superb and could tell you the latest earned run average and batting average of her favorite players on the Washington Nationals.

The family will receive friends at Lee Funeral Home Calvert, 8200 Jennifer Lane, Owings, MD 20736 on Tuesday, September 8, 2020 from 11:00 AM to 1:00 PM where a Funeral Service will be held at 1:00 PM in the Funeral Home Chapel. Interment will follow at Southern Memorial Gardens Cemetery, 10155 Ward Road, Dunkirk, MD 20754.

In lieu of flowers, memorial contributions may be made to the American Lung Association, 1301 Pennsylvania Avenue, NW, Suite 800, Washington, DC 20004.

NEW GUIDELINES FOR ATTENDING VISITATION / SERVICES.
- 50 to 75 people max at any given time in Funeral Home.
- Limit visitation to 15 minutes in visitation room to allow for others to express their condolences.
- Funeral Services in Chapel limited to 70 people with four (4) people per pew.
- Masks and six foot social distancing still applies.