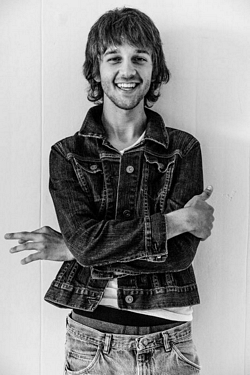 Tanner Jameson, age 20, from McKinney, Texas unexpectedly passed away early Saturday morning, August 22, 2020, leaving his family and friends with a giant-sized hole in their hearts. His death was a tragic accident and it is gut-wrenching for us, but it was also classic Tanner. He died being exactly who he was...carefree, happy, goofy, fearless, and unapologetically himself.

Tanner was born on June 9, 2000 in La Plata, Maryland. He lived in Mechanicsville, Maryland until July of 2017 when he moved to McKinney, Texas with his mom, sister and niece to be near his brother who was attending University of Dallas. He attended McKinney Boyd High School for his Senior year, and was currently enrolled in Collin College in McKinney studying audio engineering while simultaneously carrying a full load of lawn maintenance contracts for the family's lawn care business.

Tanner was an avid skateboarder, gathering multiple broken skateboards and bones along the way. He was a gifted artist from the time he was little which led to him purchasing a tattoo gun, tatting himself for hours (them legs!!) and then ultimately doling out tattoos to whomever was lucky enough (maybe brave enough?) to let him practice on them (note that if you're one of those lucky ones, treasure that tattoo...it's even more special now). He was also an extremely talented music producer, spending hours upon hours perfecting dope beats for people to buy. He loved it. He was awesome at it. He was proud of it, and he should have been.

Tanner was kind, sweet, patient, loving and caring. He was one of the best "Girl Uncles" on the planet, evidenced not only by the hundreds of selfies found on his phone of him and his niece, Ellie-Rae, but by the multiple pictures of him with bows in his hair or nail polish on his fingers courtesy of Ellie. He was her playmate, her model, her comfy place. Now he is her guardian angel, a job he will be awesome at. She's a lucky little girl.

Tanner is survived by his mother Jerilynn Jameson of McKinney, his sister Kayce Jameson of McKinney, his brother Tucker Jameson of McKinney, his niece Ellie-Rae Jameson of McKinney, his grandparents Jackie and Jerry Wallmark of Fort Mill, SC, his aunt and uncle Kristin and Alan Kagen of Frisco, Texas, and his cousins Kylie Cammon of Dallas and Jonah Kagen of Frisco. We love you. We miss you. But we see you here (close your eyes), we feel you here (put your hand on your heart), and we hold you here (big squeeze). Look over us and protect us when you're not giving the Big Guy Upstairs some fresh ink.

He is also survived by his father Ronald Jameson of Mechanicsville, Maryland, his grandmother Patsy Jameson of Summerfield, Florida, his aunts and uncles Karen and Ed White of Brandywine, Maryland, and Jamie and Paul Jameson of Hollywood, Maryland, and his cousins Dylan White of Brandywine, Maryland, and Campbell, Ryan, Ian and Tyler Jameson of Hollywood, Maryland. He is predeceased by his grandfather Leonard Jameson of Byrdstown, Tennessee.