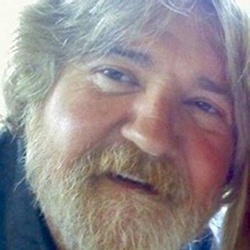 Jerry Dan 'Danny' George Jr., 61, of Lexington Park, Md. passed away at his home on Tuesday August 18, 2020.

Danny was born on November 20, 1958 in Mount Holly, NJ to the late Jerry Dan George Sr. and Betty Jo (Smith) George. Jerry Dan Sr. was in the navy, and his family moved to different bases, until finally settling into Pax Naval Air Station. Danny was a 1977 graduate of Great Mills high school, in St. Mary's County, Md. He was devoted to being a good husband and father; his family came first in his life. He always had an extremely strong work ethic and wanted nothing more than to be able to provide and support his family. He was working his dream job as a Marine engineer on a research vessel out of John Hopkins and University of Maryland, when he met his wife Deborah; they married March 16, 1992. He soon switched careers to the construction industry, after finding out, they were expecting their son, allowing him to be closer to home and more often. Danny helped build the Skip Jack, a well-known boat in the county, with Jack Russell. He loved spending time on the water, boating, fishing, and crabbing. He raised beautiful flower gardens and was a delicious cook, with his specialty being barbecue sauce. He loved animals, especially his pets, Ziggy, Cody, and Baby Girl. Anyone who knew Danny, knew how openhearted he was, always greeting everyone with a 'hey bud' or 'hey babe', usually accompanied by a big bear hug. His family was his greatest love and he enjoyed spending as much time as possible with them. He was especially looking forward to the birth of his granddaughter, Kennedy.

In addition to his beloved wife Deborah, Danny is also survived by his sons, Thomas Daniel George (Erica) of Lusby, Md, Ryan Benjamin Katz (Leanne) of Cape Cod, Ma, and Michael Ryan; His siblings Roxanne George, Michael George, and Lisa Kavaky; His special sister-in-law Cyndi Marsh (Mikey); Many grandchildren; and his extended family and friends. He is preceded in death by his parents.

All services will be private, A celebration of life will be held at a later date.

Condolences to the family may be made at www.brinsfieldfuneral.com

Arrangements by the Brinsfield Funeral Home.