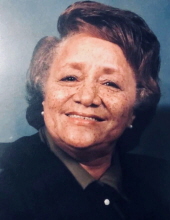 Mildred E. Flint affectionately known as "Redds" was born in Washington DC at Gallinger Municipal Hospital on February 17, 1928 to the late Raymond C. Wills Sr. and his first wife the late Myrtle D. Wills (Rawlings).

She later moved to Calvert County, MD along with her mother to her late grandparent's farm, Thomas Sr. (Poppa) and Gertrude (Grandma Gertie) Rawlings, where she became a life long resident.

On September 27, 1963 she was joined in holy matrimony to Willie J. Flint, and their union lasted for 40 years until the Lord called Willie home on February 7, 2003.

On August 18, 2020 Mildred transitioned from this life to go home where she is now with the Heavenly Father.

Mildred is survived by her daughter, 4 grandchildren, 16 great grand children, 15 great-great grandchildren, 2 grandsons-in-law, 4 sisters and 1 brother.