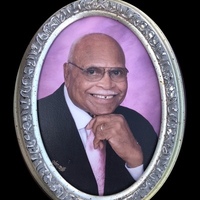 William Joseph Thomas, affectionately known by family and friends as "Bub" was born to the late William McKinley Thomas and Katie Posey Thomas on February 26, 1922 in Glymont, Maryland.

He was educated in the Charles County public school system. He was athletically inclined and was a member of the school soccer team. William was great at soccer, leading his team to State Championship before graduating from Pomonkey High School.

After graduating high school, William joined the military, serving in both the United States Army and Navy during World War II. In 1947, he met the love of his life, Mary Butler and they were married on July 4, 1953 in Newburg, Maryland. They were happily married for 67 years. From this union they were blessed with a son, Barry W. Thomas.

William was employed by the U.S. Naval Ordnance Station, Indian Head, Maryland and retired after 32 years of faithful service. He owned Pomonkey Water with his good buddy, Golden Evans for many years because he got tired of having no water in the house or having muddy water.

William was a noted figure in the community. He was a proud Lifetime member of the Knights of Columbus, Proud Lifetime member, Post Commander and Manager of the American Legion, Randolph Fury Post #170 for more than 60 years. The members remember William as being a great manager. He was always respectful and people appreciated his leadership at the Legion.

He was a member of the Catholic faith and served as an Ordained Minister of St. Mary Star of the Sea Church for decades.

William was a ticket holder of the Washington Redskins since 1946. He attended games at Griffith Stadium, RFK Stadium and FedEx Field. Whether rain or snow, he would be at the games and always stayed until the end and the ushers would ask him to leave. He was a Lifelong Redskin fan!!!

William's love for sports included playing golf and watching the Washington Nationals. As a child he loved fishing and fashioned fishing rods out of broomsticks, as an adult he continued his love of fishing. He also enjoyed listening to music. William always had a great joke or story to tell with a gleaming smile that you could not help but love. He maintained close relationships with friends and classmates.

William was preceded in death by his parents, William and Katie Thomas, sisters; Elizabeth Willis, Anna Mae Davis, Agnes Barnes and Theresa Taylor and brothers; McKinley (Mack) Thomas and Francis Thomas.

He leaves to cherish loving memories, his wife of 67 years, Mary Butler Thomas, one son; Barry Thomas (Nancy), two grandchildren; Chavonne and Barry Thomas, three great grandchildren; Aniya Gee, Jailah Thomas and Alex Gee, sisters; Gertrude Outerbridge (Rufus) and Emmagene Brooks, brothers; James Thomas (Louise), Phillip Thomas (Virginia), Charles Thomas (Gloria) and a host of nieces, nephews, godchildren, family and friends.

His Viewing will be 9:00 am until 11:00am, Monday, August 24th, Chapel of Thornton Funeral Home, P.A. Indian Head, MD. Mass of Christian Burial will follow at 12:00 noon, St. Mary Star of the Sea Catholic Church, 30 Mattingly Avenue, Indian Head, Maryland 20640. Interment, St. Charles Cemetery, Glymont, Maryland 20640.