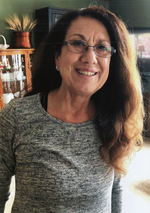 Debra Dea Hall,68, of Bushwood, MD passed away peacefully with her family by her side on August 15, 2020.
Debra was born in Anacortes, WA on April 11, 1952 to W.D. Angus and Beverly Ladora (Childs) Angus. Debra attended college in California where she met John "JW" Hall. They were married in 1973 and raised four children: Jane, Josh, Justin and Jesse.

In addition to raising four children, she worked as an independent seamstress, a school bus driver, and as a contractor for the United States Postal Service for 14 years. For a short time, she also owned and ran the local video tape store. Debra had a passion for learning and attended College of Southern Maryland with a focus in social work.

She shared her mother's love of horses and of animals in general. Debra was active with the 4H while raising her nephew Robert Angus and had several sheep during that time. Debra's St. Mary's County home was rarely without a stray cat or the family dog.

An avid crafter, the results of her forays into cross-stitch, stained glass, and knitting are displayed throughout her home and those of her friends. Her love of the arts included a passion for the theater, where she deeply treasured sharing the whole city and playhouse experience with those she loved. Debra's family were the pride and joy of her life and she treasured their family gatherings.

Debra is survived by her loving husband, John William Hall, II; daughter: Jane Hall (Joel Sorli); sons: Josh (Tracy) Hall; Justin (Cristina Baltazar) Hall and Jesse Hall; four grandchildren: Jennifer Alvey, Jessica Alvey, Lilian Hall, and Brendan Hall; great-grandson Jordan Morgan; father: W.D. Angus, brothers John (Shelly) Angus, and Gary Angus; and numerous nieces, nephews, cousins and friends.

Debra is preceded in death by her mother.

The family will receive friends on Monday, August 24, 2020 from 9:00am to 10:00AM in the Mattingley-Gardiner Funeral Home Leonardtown, MD; A Funeral service will follow at 10:00 AM in the Funeral Home Chapel with Bishop Josh Darrow officiating. Interment will be private.