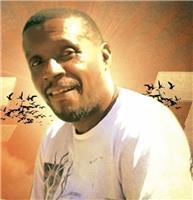 Dale Maurice Dickens (AKA "Moe"), 56 of Great Mills, MD, was born on November 7, 1963 in Leonardtown, MD to his mother, Susie Dickens. Dale peacefully passed away at the Clinton Rehabilitation Center in Clinton, MD on the evening of August 15, 2020.

Dale worked various jobs. His last job was at IHOP. He also worked part time with his nephew. Dale loved spending time with family and friends, watching old movies, and hanging at the racetrack with his brothers. He was a true Redskins fan and would proudly let it be known.

He was preceded in death by his grandparents, Virgil and Catherine Dickens; his uncles, Edward, Virgil, and Paul, and aunt, Margret Milburn.

Dale leaves to cherish his memory his only son, Dale Dickens, Jr., of Harrisburg, PA; his four grandchildren, Aaleigha, T'Sani, Tremir, and Aniyalee; his mother, Susie Dickens; brothers, Earl Barber (Heather), William Dickens (Cleo), Larry Dickens, Lester Dickens, and John Dickens, all of Lexington Park, MD; sisters, Debbie Stout (Barry, Sr.) and Vicky Arter, of Lexington Park. He also leaves four special nephews, Dewayne Barber, Demetrius Dickens, Charles Barnes, and John Dickens, Jr. (Jay Jay).

Visitation will begin at 11 am until time of service at 12 noon on Monday, August 24, 2020 at Briscoe-Tonic Funeral Home, 38576 Brett Way, Mechanicsville, MD. Interment to follow at Charles Memorial Gardens, Leonardtown, MD.
Pastor Henry E. Briscoe, House of Disciples, International Church, will be the Officiant.