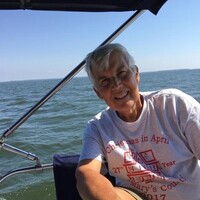 Whether it was the smell of the moist salt air, or the line that blurs between sea and sky, Tom was in his element when he was on a boat. He was always looking for an opportunity to be away from the cares of the world with his family and many friends, using the lure of the water for relaxation and adventure.

On August 18, 2020, Thomas George Serb, a loving, devoted husband and father of two children, passed away in his home at the age of 73. Tom was born on November 12, 1946, in Cleveland, Ohio, to the late Robert James and Charlotte Doll Serb. He spent his boyhood on the shores of Lake Erie-boating and fishing; and helping out with the family businesses: a gas station, bait shop, Ice-cream shack and finally a family-run motel. In 1968 he received his Bachelor of Science in Education from Miami University of Ohio and completed Naval Flight Officer Training in Pensacola, Florida. He went on to complete a Master of Science in Management from Central Michigan University in 1988.

Tom served his country in the U.S. Navy for 24 years. He spent 10 years on active duty as a Naval Flight Officer on the A-3 and the P-3, with tours of duty in Atsugi, Japan; Rota, Spain; and Patuxent River, Maryland. He spent another 14 years in the reserves, retiring as a Commander in the Naval Reserve in October 1992.

Tom married Carol, his wife of 46 years, in March of 1974. Everyone who knew Tom would agree that he was devoted to his family. Tom did not just teach his children, Heather and Andy, his Christian faith, he lived it as an example to them and all in his sphere of influence. Involvement in church, youth, military ministries, bible studies and mission trips were a normal part of family life. Tom was also devoted to the importance of family vacations and trips together. Many family camping trips, ski vacations and even some international travel were a regular part of family life, both when the children were young and then with the spouses and grandchildren as they grew. In his retirement, Tom and Carol traveled extensively, trekking across the globe, up and down the Chesapeake Bay, and down the Intracoastal Waterway in their sailboat.

One of Tom's most enduring qualities was his love for people. He loved to socialize-whether it be with a neighbor, the grocery store clerk, or with a friend on a fishing trip. Even more was his love for helping others. Tom valued those in need or in challenging situations and openly shared his resources, his home and himself with others. He invested his life, his wisdom and his time into leading others into a deeper relationship with God. He encouraged all he knew to be better versions of themselves. He was a mentor, an encourager and a true friend.

Tom will be remembered by his family and friends for sailing and fishing, Russian pancakes, hikes in the woods, lessons about engines and how to take care of things so that they last, woodworking, his impeccable memory of gas stations and restaurants on the turnpike, tinkering, trips to Ohio, and collecting things, especially old cars, bits and bobs, and spare parts. Anything you might need could be found in "Gramps' Hardware Store". He loved happy hour, hot tubs, cherry pie and waxing his boats. He was romantic and loved to get Carol flowers. He never turned down an offer to go out to eat.

Tom was industrious, patient and soft-spoken. He was deliberate and a do-it-yourself kind of guy. Tom left a legacy of commitment and love that will not be forgotten.

Tom is survived by his wife, Carol; his children, Heather and Andy (Samantha); his grandchildren Eric, Bay and Leah; his brothers Bob (Anne) and John, his sister, Connie (Skip) and several close nieces and nephews.

Family will receive friends on August 21, 2020 from 4:00 to 5:30 p.m. at Brinsfield Funeral Home, P.A., 22955 Hollywood Road, Leonardtown, MD 20650. A Funeral Service will be private. Interment will happen at a later date at Arlington National Cemetery in Arlington, VA.

Donations may be sent to Hospice of St. Mary's, P.O. Box 625, Leonardtown, MD 20650, Johns Hopkins Kimmel Cancer Center, P.O. Box 17029, Baltimore, MD 21297-1029, and The Navigators, P.O. Box 6000, Colorado Springs, CO 80934-6000.

Condolences may be made at www.brinsfieldfuneral.com.

Arrangements by the Brinsfield Funeral Home, P.A.