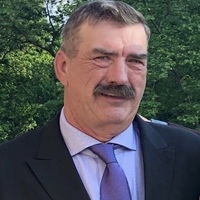 George Earl Beall, Jr, 60, of Avenue, MD departed this life unexpectedly on August 12, 2020 at Georgetown University Hospital in Washington, DC.

He was born on December 31, 1959, in Cheverly, Maryland. He was the son of the late George Earl Beall, Sr. and Margaret Alice (Canter) Beall.

George met the love of his life, Sandra "Sandy" in 1975 and they were married on 1978. Their love grew with the birth of three children, Sara, Margaret and George III.

George was a caring husband, father, Pop and brother who loved his family above all else. His world revolved around his grandchildren, hunting and his rabbit dogs. He was a member of several organizations, National Beagle Club, Mid Atlantic Beagle Federation, Friendship Hills Beagle Club and was a past president of the Southern Prince Georges Beagle Club.

He spent his life working hard and supporting his family. George worked as Oil Burner Mechanic for Southern Maryland Oil before he retired. During his life, he worked as a farmer and understood the value of a hard day's work. Whether he was preparing the fields for a cover crop or planting and cutting tobacco, George appreciated the land. He raised farm animals and loved watching the chickens peck the ground.

George was an avid outdoorsman, who found comfort in a cool morning in the woods patiently waiting for the big buck, gobble of a turkey or an evening with a fishing pole bobbing in the water. He could spend hours with his rabbit dogs training them or running rabbits. George loved working with his beagles and was proud of his involvement in the Field Trials with the American Kennel Club Mid Atlantic division. When not outdoors he enjoyed watching NASCAR and was a die-hard #88, Dale Jarrett fan.

Whether you knew him as George, Dad, or Pop, you knew his commitment to his family. He may be gone, but his legacy of honor, strength and hard-work will be carried on and duplicated for many generations. George was a man of honorable attributes and left his family with many memories. He will be missed by many, but none as much as his family. Take a moment and listen to the breeze rustle the leaves and may hear George in the distance yelling "Tally-ho" and the barking of his rabbit dogs on the hunt.

George is survived by his wife, Sandra "Sandy" Beall of Avenue, MD; children, Sara M. Barker (Jeff) of Colonial Beach, VA, Margaret A. Oliver (Murph) of Bushwood, MD and George E. "Puggy" Beall, III (Emma) of Lusby, MD; and thirteen (13) grandchildren, Reagan, Skylar, Natalie, Catie, Ashby, Erica, Allan Caleb, Zoey, Jackson, Austin, Kendal and Lilly. He is also survived by his siblings, M. Elaine Windsor (Bill), Kim Quade (Lewis), Robert L. Beall (Jeannie), Diane Klien (Joe), Sharon Thompson (Jay), Charlotte Beall, Scott Beall (Susan), Bobbi Gibson (David) and Edie Wood (Donald). George is preceded in death by his parents.

Family will receive friends on Friday, August 21, 2020 from 10:00 a.m. to 12:00 p.m. for a Life Celebration Memorial Gathering at Brinsfield Funeral Home & Crematory, 30195 Three Notch Road, Charlotte Hall, MD 20622 with memories being shared at 11:00 a.m. Interment will be private.

Condolences to the family may be made at www.brinsfieldfuneral.com

Arrangements by the Brinsfield Funeral Home & Crematory, P.A., Charlotte Hall, MD.