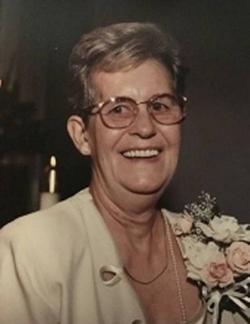 Eunice Hazel Swinburn, 84, a resident of Haymarket, Va. and for the past six years a resident of The Harbour in Stanardsville, Va. died on Wednesday, July 29, 2020 after complications from a stroke. Born on November 4, 1935 in Baltimore to the late Charles and Estelle Beatty and named for her late Aunt Eunice Hazel Beatty.

She was preceded in death by her husband of 47 years, Richard Lee Swinburn Sr. who died in 1998 and her sister Grace E. Owens of Annapolis who died in 2019. She is survived by her son, Richard Lee Swinburn Jr. of Broomes Island, Md. and daughters Gail Robin Toledo of Glen Burnie, Md. and Vicky Ann Walsh of Haymarket, Va.; her sisters, Iris Rodgers of Shady Side, Md. and Patricia Pate of Rockingham, North Carolina; two half–brothers, Wilbur L and John O. Banks, and her eight grandchildren, nine great grandchildren, three great-great grandchildren, six step great-grandchildren, and one step great-great grandchild.

Friends are invited to celebrate Eunice's life on Tuesday, August 4th from 11-12:30 at Hardesty Funeral Home in Galesville, Md. until her burial service begins at the Quaker Burial Grounds in Galesville, Md.