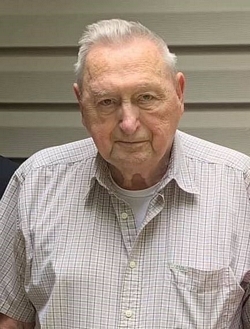 Lewis Michael Herrington, 89, of Prince Frederick passed away July 26, 2020 at his home. He was born June 30, 1931 in Vestaburg, Pa. to Lewis L. Herrington and Anna Makausky. He was raised in Pennsylvania.

He served in the US Army from 1952 to 1954 in the Korean War. One of the most treasured items he carried with him, was a picture of his niece, Mary Anne. He often told other soldiers' that was his daughter. Upon returning home he continued to cherish his relationship with Mary Anne. They would spend Saturday afternoon's together having lunch and laughing. As time moved on Mary Anne got married and move to Arizona. This did not stop her calls on Sunday evening to talk to her "Uncle Lewie." This special relationship continued until his death.

At a dance in a Hotel in Washington DC, he saw the love of his life, Jeanne. He looked across the room, saw her ankles, and said, "I'm going to ask her to dance. She is made of good stock." She said yes and they were married on April 7, 1956 in Washington DC. They bought their first home in a new community called "New Carrollton." There, they lived together for 45 years before relocating to Calvert County to be closer to family.

In Calvert County he loved going to The Pines, especially for lunch! Through this connection, he met his close friend, Charlie. Charlie could always make him laugh. Charlie would come over daily and have lunch with him since the Pines has been closed. Then they would go for a walk together to keep active. Charlie had a way of always making Lew look at the bright side of things. Elver was another special part of Lewis' days. He enjoyed their talks and loved her cooking. Lewis was a proud member of American Legion. Most recently Post #238 in Hughesville. He enjoyed the steak dinner nights and the picnics on Special Days.

Lewis was preceded in death by his wife of 55 years, Jeanne; brothers and their wives, Earl and Mary Herrington, Paul and Julia Herrington and sister, Genevieve and husband, Joe Milewski and nephew, Paul D. Herrington. He is survived by his nephew, Steven Milewski of Chicago, Ill.: nieces, Mary Anne Hawthorne (Tim) of Tucson, AZ., Julie Ann Gadway (Chris) of Huntingtown, Md., Gloria Ramamni (Taieser) of Garden City, SC, And Susan and Terese Milewski of Chicago Ill. ; great nieces, Julia Anne Smith, (Tommy) of Prince Frederick, Md., Shannon Lee Herrington- Sutton, (Josh) of Durham ,NC. ; great nephew, Blake Ward Gadway and the one who brought him the greatest joy his great, great nephew Braden Nicklas Smith. The happiest moments were the times he spent with "Little Buster."

Repass will be at Adam's Rib in Prince Frederick, August 8, 2020 from noon – 3:00 PM. The service and interment will be private.