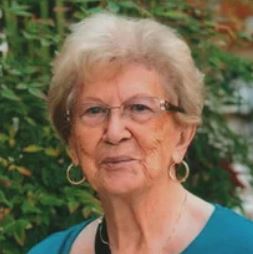 Dorothy Susan "Sue" Gryskewicz, 92, of Prince Frederick, MD, passed away with her loving family by her side, on August 6, 2020. She was born on June 3, 1928 in Larksville, PA to the late Michael and Margaret [Benner] Matisko.

Sue met Albert "Al" Benjamin Gryskewicz and they married April, 1950. They were married for 67 years before he passed in 2017. Together they had two sons. Sue and Al moved to Washington, DC where she worked for the C&P Telephone Company. Later they moved to Forestville and then Prince Frederick, MD where she worked for the Bureau of the Census, Governments Division. After retiring, she enjoyed traveling, casinos, the beach and most of all, she enjoyed her family. "Nana," as she was fondly known to her grandchildren and great-grandchildren, cherished every moment she spent with them.

Sue was predeceased by her beloved husband Albert Benjamin Gryskewicz, son Albert Benjamin Gryskewicz II, brother John (Betty) Matisko, sisters Mae (John) Gurick, Peggy (Bob) Carson, Eleanor (Jim) Powell, brother Michael (Lorraine) Matisko, and sister Barbara (Richard) Blyberg.

She is survived by her loving son Paul (Kim); grandchildren Stacie (Matt), Vickie (Daniel), James (Jessica), John (Nikkie), Abby (Casey); great grandchildren Liam, Jackson, Albert, Lacey, Easton, Sirus, Jack, and Henry. She is also survived by her brother-in-laws, Chet (Josephine) Gryskewicz, Leonard (Josephine) Gryskewicz, traveling, dining and gambling partners, James and Lois Thorne, as well as, many cherished nieces and nephews. She was very grateful for her niece Donna, who came to visit often and spent quality time her.

Family will receive friends at Lee Funeral Home Calvert, 8200 Jennifer Lane, Owings, MD 20736 on Sunday, August 16, 2020 from 3:00 to 5:00 pm. A Mass of Christian Burial will be celebrated at St. John Vianney Church, 105 Vianney Lane, Prince Frederick, MD 20678 on Monday, August 17, 2020 at 10:30 am. Interment will be private.

Memorial donations can be sent to St. John Vianney Church, 105 Vianney Lane, Prince Frederick, MD 20678.

NEW GUIDELINES FOR ATTENDING VISITATION / SERVICES.
- 50 to 75 people max at any given time in Funeral Home.
- Limit visitation to 15 minutes in visitation room to allow for others to express their condolences.
- Funeral Services in Chapel limited to 70 people with four (4) people per pew.
- Masks and six foot social distancing still applies.