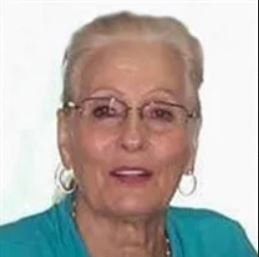 On Thursday, August 6, 2020, AnnaMaria Radosevic, 86, of Dunkirk, MD, died at Medstar Georgetown University Hospital in Washington. D.C. with her family by her side. AnnaMaria is survived by her husband of 51 years, William Martin Radosevic, son, Frank Antonio Radosevic (Dena), Teresa Marie Schrodel (the late Michael David Schrodel); grandchildren, Carmen Schrodel, Madeline and Liam Radosevic, sister Rosa Tuccillo, sister-in-laws, Maria Federico and Mary Ann Wright and numerous nieces and nephews. AnnaMaria is pre-deceased by her siblings, Rodolfo "Sergio" Esposito, Maria Esposito, Maria Tuccillo, Giorgio Tuccillo, Brigida Tuccillo, Generoso Tuccillo.

AnnaMaria Esposito was born January 25, 1934 near Piazza Dante in Naples, Italy. Her father, the late Roberto Esposito, was a goldsmith and her mother, the late Pasqua Siciliano was a homemaker. During World War II she was sent to live with a family outside of Naples for safety. As a young lady, she worked as a receptionist and clerk in Naples. In August 1965, she met her future husband William "Bill" Radoševi? on the beach in Licola, Italy. She immigrated to the United States in 1968 and married Bill at Mt. Calvary Catholic Church in Forestville, MD. That same year, AnnaMaria and Bill started an Italian oil painting import business, named Medart. With her two children in tow, Bill and AnnaMaria would travel up and down the East Coast selling original Italian oil paintings. Over the decades the business grew to a retail gallery and custom picture framing shop which is now currently located in Dunkirk, MD. AnnaMaria was active in the family business until the day of her accident and had many adoring customers drawn to her generous, loving and caring spirit. AnnaMaria became a US Citizen in October of 1994.

Her son, Frank was born in 1969 and daughter, Teresa was born in 1971. 'Nonna' as she was lovingly referred to, was a doting grandmother to Carmen, Madeline and Liam; and a loving and supporting mother-in-law to Dena Radosevic and the late Michael Schrodel. Nothing was more important to Nonna than her family's well-being, and she took great pleasure in taking care of them, especially by making sure their stomachs were filled with her cooking. AnnaMaria was an active and founding member of the Covenant Community of Jesus the Good Shepherd Catholic Community parish in Owings, MD.

Family will receive friends at the Lee Funeral Home Calvert, 8200 Jennifer Lane, Owings, MD on Tuesday, August 11, 2020 from 2 to 4 & 6 to 8 pm. Prayers will be held at 7 pm. A Mass of Christian Burial will be celebrated at the Covenant Community of Jesus the Good Shepherd Catholic Church, 1601 West Mt. Harmony Road, Owings, MD 20736 on Wednesday, August 12th at 11 am. Interment to follow at the church cemetery.

The funeral mass will be broadcasted for those who cannot attend.
https://m.youtube.com/JesusTheGoodShepherdCatholicCommunity?uid=Rl8NEvwWLFSuTGWbE-1bWA

NEW GUIDELINES FOR ATTENDING VISITATION / SERVICES.
- 50 to 75 people max at any given time in Funeral Home.
- Limit visitation to 15 minutes in visitation room to allow for others to express their condolences.
- Masks and six foot social distancing still applies.