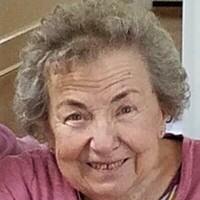 Ann Terese Dunbar Duchesne, 87, died peacefully at her home in Leonardtown, MD alongside family & caregivers on August 5, 2020 of natural causes related to Parkinson's Disease. Ann, born in Baltimore, moved to Bethesda at age 10, attended Our Lady of Lourdes grade school, graduated from Academy of the Holy Names in Silver Spring, MD and met her future husband. She married Jack Duchesne (predeceased in 2005) in 1954 and settled in Silver Spring. During the next 10-year period, eight children joined their family and Ann had her hands full! In the dozen years before Ann & Jack built their Leonardtown retirement home on Breton Bay in 1995, they relocated to Lancaster, PA, Syracuse and Oyster Bay, NY.

Ann devoted herself to motherhood and focused most of her energy on loving her family and extended family & friends. Her children's achievements and their happy growing families stand as testament to her dedication to motherhood. She was an avid music fan & supporter and was quite the pianist & vocalist, always finding the rich middle harmony parts when she sang in church folk choirs as well as cherished family reunions. Ann was a devout Catholic and had an unwavering faith in God, to whom she prayed daily and often attended daily mass in good health. More than anything, she loved being surrounded by family and friends. She had a strong love for everyone and had the natural ability to make people feel comfortable. Ann was genuinely loved by so many and will be sorely missed beyond words.

She is survived by her eight children: Peg of Leonardtown, MD; Jack, Jr (Sandi) of Ormond Beach, FL; Jeannie (Mike) Dettorre of Hummelstown, PA; Ann (Jim) Beacham of Westminster MD; Maureen (Jeff) of Winter Park, FL; Tom (Rosy) of Cranberry Township, PA; Ellen (Kyle) Jones of Ocean Isle Beach, NC; Martha (Eric) Christiansen of Spring Grove, PA; 18 grandchildren and 7 great grandchildren and many nieces and nephews. Also surviving her are sisters Ethel Doherty and Ellen Syquia. Predeceasing her are three sisters Marie, Dorothy & Rita and grandchild Michael Beacham.

Due to the COVID pandemic, a celebration of Ann's life will take place at a future date closer to her burial at Arlington National Cemetery alongside her husband. As information becomes available, family will post information on https://www.caringbridge.org/visit/annduchesne/.

In lieu of flowers, the family suggests donations to Hospice of St. Mary's, P.O. Box 625, Leonardtown, MD or a charity of your choice.

Condolences may be made at www.brinsfieldfuneral.com.

Arrangements by the Brinsfield Funeral Home, P.A.