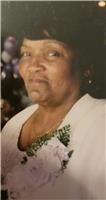 Mary Ernestine Thomas, 77 of Chaptico, Maryland went home to be with the Lord on Monday, July 27, 2020. Ernestine (affectionately known as Puddin) was born in Baltimore, MD on May 1, 1943 to Caroline C. Countiss and the late William E. Brown. She attended Banneker High School in St. Mary's County.

She was blessed with 6 children, Shelia, Gwinette, Joyce, Tammy, Donald and Gale. She helped raise Darnell Wills, Ricky and David Thomas.

In the early 70s, she graduated from Cosmetology School in Baltimore, MD and became a Licensed Beautician. She worked at the Beauty Salon in Leonardtown, MD for years before leaving to work at Hairtasia in Charlotte Hall, MD. She was a Master with a pair of Marcel curlers in her hand all while chewing on her tongue. Many women in St. Mary's County have had their hair done by Ernestine at one time or another. After well over 30 years of dedication to cosmetology, she left the field and took a job with St. Mary's Hospital as a Nutritionist. She received many awards and accolades for a job well done. They even named the wings on their menu to "Ernestine's Wings". She retired from the hospital in October of 2008.

She was a dedicated lifetime member and a great supporter of the parish at Our Lady of the Wayside in Chaptico, MD. You could always find her helping out at the annual festivals and fall dinners. She was a spiritual woman who went to Church every day until she became blind and couldn't drive anymore. She made sure we laid her Bible and Rosaries on her bed each night. She would listen to EWTN or TBN every night until she fell off to sleep.

She was an avid Baltimore Orioles and Philadelphia Eagles fan and you could find her yelling at the TV every time they played. She taught all of her grandkids and great-grandkids how to play solitaire and Trouble. And if she wasn't winning she'd call the game, coming up with an excuse as to why she didn't want to play anymore.

Ernestine was pre-deceased by a special friend, Joseph William (Joe Louis) Biscoe; fathers, William Ernest (Red) Brown and Benjamin (Bee) Countiss; grandparents, Harry and Mary (Mae) Thomas; uncles Wilson (Rosetta), John Henry, Hilary (Bub), James Richard (Jim), and James Louis (Wallace) Thomas; aunts, Goldlina (Sis) and Annie (Shug) Thomas and Dorothy Ann Somerville; sister-in-law, Gloria Countiss; sister, Betty Ann Gant-Beverly, and great-grandkids, Jaylen and Jashaun Ball.

Ernestine leaves to cherish her memory her loving and devoted mother, Caroline, who took care of her for 2 years after she became blind; children - Shelia Thomas (Clarence), Gwinette Shubrooks (Calvin "Dukey" - deceased), Joyce Thomas (Arnell), Twanda Fenwick (Demetrius), Donald Thomas, Sr. (Sharon), Gale Maddox (Roy), Darnell Wills, Ricky Thomas (Kristy), and David Thomas; siblings - Mary Ellen Dorsey (Cecil) , Benny Countiss, Kevin Countiss (Audrey), Chuck Countiss (Anita), Winfred Countiss (Ann), Jeffrey Somerville (Debbie), Jimmy, Bernard, Wayne and Charles Reed, and Francis Dorsey; 16 grandchildren - Martese (Shavonne), Deanna (KG), Lekika (Chaz), Kenny, Takiera, Rochelle, Donisha, Jaron (Taneisha), James, Deonte, Roy Jr, Calvin Jr., Travis (Maria), Donald Jr., Rashaun, and Domonique; 16 great- grandkids - Harmony, Davon, Tamia, Kamaal, Jamiya, Tristen, Tyler, Terrell, Kamari, Blake, Royce, Trinity, Ariah, Monroe, Axel and Nasir; 1 uncle, Charles Butler, 5 aunts - Rose Anna Shade, Agnes Queen, Elizabeth Dickerson, Barbara Ann Thomas and Dorothy Clarke; Godchildren - Larry and Christine Mills, Ricky Price, Cindy Price, Tanji Mills, Darrell Countiss and Tammy Fields; special friends - Alberta Johnson, Grace Lawrence, Phyllis Elam (her cousin whom she talked to 3 or 4 times a day), Edna Reed, Ann Bowman, Rosetta Gough, Alice Bush, Dorothy Wise, Ann Berry and Rachel Wilson.

Pallbearers for Ernestine are Charles Carter, Robert Carter, Darnell Wills, Ricky Thomas, David Thomas and Tony Countiss.

Honorary Pallbearers are Ernestine's brothers, grandsons and Godson, Larry Mills.

Visitation will begin at 9:00 am - 10:30 am on Thursday, August 6, 2020 at Briscoe-Tonic Funeral Home, 38576 Brett Way, Mechanicsville, MD. Mass of Christian Burial to follow at 11:00 am at Our Lady of the Wayside Church, 37575 Chaptico Rd, Chaptico, MD 20621. Interment at Sacred Heart Church Cemetery, Bushwood, MD.