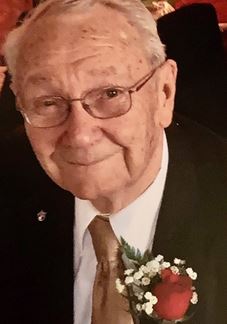 Spurgeon Dewey Terry, Jr., 92, of Hollywood, MD, passed away peacefully, surrounded by family, at home, on July 31, 2020.

Spurgeon was born on March 24, 1928 in Monroe County, AL to the late Spurgeon Dewey Terry, Sr. and Faytie Lee Dailey.

Spurgeon enlisted in The United States Navy on June 29, 1946 and proudly served until his honorable discharge in 1948. He was a Law Librarian for The Library of Congress and then moved to the United States Department of Agriculture where he retired as head Law Librarian after 35 years. After retirement, he worked as a Law Librarian for Metro-where he implemented a new and innovative law library system. He married his greatest love, Jean Elizabeth Tippett, on June 19, 1948 at St. Peter's Catholic Church on Capitol Hill in Washington, DC. They recently celebrated their 72nd wedding anniversary.

While living in Washington DC, Spurgeon (an Eagle Scout) served as Cubmaster of the Boy Scouts. He and Jean moved the family to Hyattsville in 1960 and Spurgeon became a member of The Knights of Columbus. He was an active member of St. Jerome's Catholic Church where his ten children attended elementary school. Spurgeon also served the community as city councilman of Ward 2 of Hyattsville for eight years and President of the City Council for two years. In 1989, Spurgeon and Jean retired to their summer home in Hollywood, MD (on Tippett Point) next to Jean's six brothers and younger sister. Spurgeon and Jean were daily Mass (and Rosary) attendees at St. John Francis Regis Catholic Church for nearly 30 years. Spurgeon was actively involved in various organizations, especially the Knights of Columbus, where he served as Grand Knight and also recruited many new members. Spurgeon was very happy to be able to start a weekly Bible study at St. John's. He was also active in St. Mary's Pro Life Club; he served Meals on Wheels; he volunteered for hospice and he served as president of the local NARFE (National Active and Retired Federal Employees) chapter. Spurgeon enjoyed spending time with his family, especially his beautiful grandchildren and great grandchildren. He will be remembered for his strong faith and his love of the scriptures-both which guided his life, his love of history and books, his talent for winning at games of dominoes and canasta, his kind and caring nature, and his exceptional storytelling.

Spurgeon is survived by his wife, Jean, his children, Robert Francis Terry (Rosie) of Desert Hot Springs, CA, James Joseph Terry of San Diego, CA, Michael Anthony Terry (Fran) of Leola, PA, Mary Rosalie Middledorf, of Laurel, MD, Faye Marie Winemiller (Richard) of Lemon Grove, CA, Margaret Jean Naber (David) of Daytona Beach, FL, Kathleen Marie Faber (Robert) of Clarksville, MD, Joan Esther Stevens of Hollywood, MD, and Theresa Virginia Bond (Richard) of Ellicott City, MD, his sister, Mary Ann Jay (Havard) of Mexia, AL, 20 grandchildren, and 17 great-grandchildren. He was predeceased by his son, John Edward Terry, his brother, Neal Owen Terry, his granddaughter, Jennifer Burns, his daughter-in-law, Aurea Acosta Terry, and his son-in-law, Bob Middledorf.

The family will receive friends for a Celebration of Life on Monday, August 3, 2020 from 10:00 a.m. to 12:00 p.m. with a Mass of Christian Burial at 12:00 p.m., at St. John Francis Regis Catholic Church, 43972 St. John's Road, Hollywood, MD 20636. Interment will follow in the church cemetery.

If unable to attend in person, we welcome your presence via "Live Streaming of the Funeral Mass" through St. John's Catholic Church.

In lieu of flowers, Memorial contributions may be made to St. John Francis Regis Catholic Church, 43950 St. John's Road, Hollywood, MD 20636 or Hospice of St. Mary's County, Maryland, 44724 Hospice Ln, Callaway, MD 20620

Condolences to the family may be made at www.brinsfieldfuneral.com.