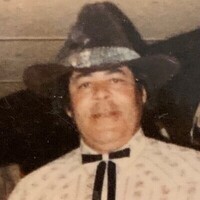 George Walter Proctor was born Feb 10, 1936 in Washington, DC. He was a member of the Piscataway Conoy Tribe of Maryland. He was born to Roger Roy and Elizabeth Era Proctor. He was often affectionately known throughout the years as "Walter, Uncle George, Monk and Big Chief."

In the early 1960's, he married his first wife, Marylee Queen and conceived a son, Walter Eper Proctor. He also helped to raise his step-son, Don Queen who preceded him in death. After the death of Marylee, he met and married his current wife, Janet Key Proctor. They often traveled to and resided in her hometown of Pittsburgh, PA. They were married in 1970 and their union lasted 50 years until his transition on Monday, July 27, 2020.

George enjoyed spending time with his family. He, along with his wife, Janet, were foster parents in the Washington DC Metropolitan chapters to over 20 different children for 35 years. He was a country boy at heart, who enjoyed fishing, raising chickens, taking road trips and playing his guitar. He also enjoyed eating ice cream and peanut candy bars. He was a great cook, loving to BBQ on the grill and cooking Sunday dinners.

He was loved by many.

In addition to his parents, first wife, and step-son, George is preceded in death by his siblings, James Proctor (Myrtle), Joseph Wallace Proctor (Hilda), William Jack Proctor (Shirley), Robert Tex Proctor, and Mary Virginia Proctor (Matthew).

George is survived by his wife, Janet Key Proctor, children, Walter Eper Proctor (Kathy), Jina Proctor, Mindy Allen (Samuel), Ashley Proctor, Nicole Proctor, Peter Proctor and Karin Proctor, grandchildren, Justin Thompson, Jeron Thompson, Jermain Proctor, DeBrandon Proctor, Jordan Proctor, A'mari Davis, Jadan Allen, Ny'Asia and Ka'lia Brake, Princeton Proctor, Aven Proctor, Avri Thomas, Elijah Proctor and Layla Proctor and his last living sibling, Bernice Elizabeth Harley. Also left to cherish many memories are nieces, nephews, other family members and friends.

His viewing will be held on from 9:30 am until 10:30am in the Chapel of Thornton Funeral Home P.A., Wednesday, August 5th with a Mass of Christian Burial to follow at 11:30am at St. Mary's Catholic Church Piscataway, Clinton, Maryland. Interment Church Cemetery.