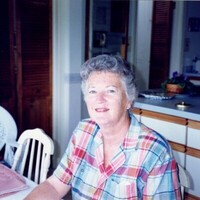 Jean Ennis Fenwick, 90, of Mechanicsville, MD passed away on July 25, 2020 at her home.

Born on June 2, 1930 in Newark, NJ, she was the daughter of the late Claude Melnott Ennis and Mercedes Ennis (Dey).

After graduating high school, Jean went on to attend 4 years of college at University of Kentucky, where she obtained a Bachelor's Degree. She married the love of her life, Cuthbert I Fenwick, Jr. on June 12, 1954 and they spent 51 wonderful years of marriage together before his passing on May 5, 2005. Jean and Cuthbert welcomed two (2) beautiful children into their family and from then on, Jean was a fulltime Homemaker. She took excellent care of her family and enjoyed spending her time with her kids, raising them up while creating fun and long-lasting memories. Jean loved her family more than anything in the world and they always came first.

Jean enjoyed so many beautiful things that life had to offer. She was a member of Our Lady's Church on Medley's Neck and attended services there on Sundays where she used her lovely voice to sing in the church choir. She also was a member of the Red Cross. Jean loved to travel, see and experience new places and things. She was very interested in U.S. History and constantly looking to learn. She had incredible creative skills and enjoyed making art of all types, such as painting, pen and ink, watercolors, pottery, playing the piano and other crafts.

Jean is survived by her children: Cuthbert "Chip" I Fenwick, III (Arlene) of Mechanicsville, MD and Claudia M. Fenwick, her sister, Elizabeth "Betty" Wise (Bill) of Lake Oswego, OR, as well as 3 granddaughters: Summer E. Seastrand (Erik), Alyssa K. Popa (Sergui), and Kathleen N Fleetwood (J.T.), as well as 6 grandsons.

She is preceded in death by her parents, her husband and her step mother, Mary J Ennis.

Family will receive friends on July 31, 2020 for a Life Celebration and funeral Mass celebrated by Father John at 10:00 am at Our Lady's Church, 41410 Medley's Neck Road, Leonardtown, MD 20650. Interment will follow in the church cemetery.

Condolences to the family may be made at www.brinsfieldfuneral.com.