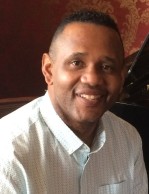 Mike Lopez — or Big Mike as he was known to friends — was a gentle giant whose presence and smile would light up a room. Although his stature could be intimidating, his quick willingness to take someone under his wing perfectly showcased his heartfelt compassion and his innate ability to support, guide, listen and just be a friend when a friend was needed.

Making a difference in the lives of others came naturally to Big Mike. For this reason and countless others, the world and the people he met are better because of him.

Whether goalkeeping for the Barataria Junior Secondary Evening Shift Team, his hometown team for youth under 16, or representing his native Trinidad and Tobago on the world stage as a top athlete and goalkeeper on the national football (soccer) team, his sportsmanship and regard for teammates and opponents alike was exemplary on and off the pitch. Upon moving to Brooklyn in the 1980s, he joined the daring world of bike messengers as they raced each other across Manhattan, delighting in the thrill and hustle and bustle of interacting with people from all walks of life. Anyone who met Big Mike quickly found that he had a presence and spirit about him that could make the darkest day a little brighter.

After joining the Marine Corps in 1991, Mike proudly served as a plane captain and collateral duty inspector with the Warriors of Marine Light Attack Helicopter Squadron (HMLA) 167 aboard MCAS New River in Jacksonville, North Carolina, and on detachment in support of the withdrawal of forces in Somalia. He cherished his time as a Marine, speaking often of his experiences, his time playing basketball on the All-Marine Team and the lifelong friendships forged through the bonds of camaraderie, trust and service.
When Mike was granted U.S. citizenship in the early 1990s, his joy could not be contained. Indeed, no one was ever prouder of being a U.S. citizen than Big Mike. His love of the United States knew no bounds.
Ever a team player, Mike was an avid sports fan —some might even say he was a fanatic, especially when it came to his New York Football Giants. He was also a well-respected teammate at the Solomons Fleet Readiness Center Aviation Support Equipment (FRCASE), a long-standing member of the International Association of Machinists and Aerospace Workers Union - Lodge No. 4 and a faithful member of Hollywood United Methodist Church.

Mike's stature easily made him the center of attention, but he preferred to sit quietly, listen and take in the world around him. His dearest joy was his wife, Desirée. He loved her with a purity and passion that is limited to a precious few. He was — and is — her soulmate, her strength and her forever protector. Theirs is truly a love that transcends time and space.

Mike was a true "girl dad." He loved being a father to his daughters, Dominique, Krysaundra and Mya and cherished weekly family dinner dates with them and grandsons, Julian and Makia.

It is said that a heart is not judged by how much you love, but by how much you are loved by others. Mike's family, friends, squadron mates and colleagues love him with a depth that has no bounds. He didn't have many years on this earth, but he made the most of the years he had with those around him.

Mike was born in Trinidad and Tobago to Leonard and Mrytle (Nurse) Lopez. He was preceded in death by his parents and his sister, Marvelyn Nurse. He is survived by his wife, Desirée; daughters, Dominique (Lopez) Labore, Krysaundra Lopez and Mya Lopez; siblings Erica (Lopez) Callender, Wayne Lopez, Lystra Lopez, Kirt Lopez, Michelle Lopez, Jennifer Lopez and Allison Nurse; and grandsons, Julian and Makia.

As an expression of sympathy, donations may be made to the Marine Corps Scholarship Fund in memory of Mike Lopez.