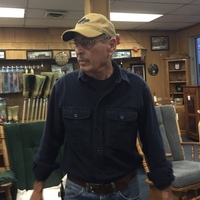 William Theodore "Buddy" Bowling, Jr., 81, of Bryantown, Maryland passed away on July 22, 2020. Born April 16, 1939, in La Plata, MD, he was the son of the late William Theodore Bowling, Sr. and Betty Faucett Bowling. He grew up on a farm in Bryantown and attended St. Mary's Catholic Church as a boy.

Buddy held many jobs during his lifetime. He was a self-made business man. He had an excavating business in his early years. He was a farmer, a truck driver and then started his own shed building business. He and his wife, Pam, opened Everything Amish together 27 years ago. Until his illness, he devoted every day to his store for which he had great pride. Buddy had many friends who would come and spend hours with him every Sunday at the store laughing and talking. He was an animal lover and never met an animal that he didn't make a friend.

Buddy is survived by his partner of 5 years, Lucy Garcia. He leaves behind children, from his first marriage, William T. Bowling III, Steven Bowling (Tracey), Tami Bowling Fitzgerald (Dave), Tina Bowling Wagner (Mike) and Christopher Allen Bowling (Anita). He is also survived by his son William "Billy" Bowling and his daughter Staci Bowling (Dave) and numerous grandchildren and great grandchildren.

In addition to his parents, he is preceded in death by his wife of 40 years, Pamela Kay Bowling, his brother Patrick Marsham Bowling, his sister Terry Elizabeth Bowling Hayes and his dear brother in law John Hayes.

He also leaves behind his wonderful staff at Everything Amish whom he loved very deeply, Michael Jenifer, who was like a son to him, Melanie Shirley, Sandy Gegor, Richard Chalastri and Rob McCann.

The family will receive friends on Friday, July 24, 2020 from 6:00 pm to 8:00 pm for visitation with prayers recited at 7:00 pm at Brinsfield Funeral Home & Crematory, P.A., 30195 Three Notch Road, Charlotte Hall, MD 20622.

In lieu of flowers, memorial donations may be made to the Charles County Humane Society, 71 Industrial Park Drive, Waldorf, MD 20602.

Condolences to the family may be made at www.brinsfieldfuneral.com.

Arrangements by the Brinsfield Funeral Home & Crematory, P.A.