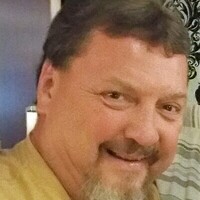 Ronald Edward "Otis" "O" Wood, 60, of Hollywood, MD passed away, after a courageous battle with cancer, on July 18, 2020 at MedStar Southern Maryland Hospital Center.

He was born in Leonardtown, MD on July 20, 1959 to the late Otis and Louise Wood of Hollywood, MD. He was the youngest of 3 sons.

Otis attended Hollywood Elementary School, Leonardtown Middle School and went on to graduate from Chopticon High School in 1977. He also attended the St. Mary's County Technical Center studying Metal Trades, and took courses at Charles County Community College.

During the course of his life, Otis worked after school for Dean Sunoco in Hollywood. After high school he gained employment with Burch Oil Co. as a sheet metal fabricator and HVAC installer. Later in life Otis was employed by various government contractors as a machinist. He was exceptional in his trade and took much pride in his work.

Otis enjoyed life, being of a free spirit. In his youth he enjoyed swimming and vacationing in Ocean City, MD with his Mom, Dad and brother, Dickie. He also enjoyed hunting, fishing, camping with friends, and target shooting with his BB gun and 22 rifle. His other hobbies included playing pool, darts, horseshoes and softball in local area leagues.

Being a machinist/mechanic he loved working on and riding his many motorcycles. He loved riding his Heritage Soft Tail Harley Davidson. He enjoyed constantly making many improvements to this machine so it was up to "Otis" standards. When not improving his Harley he would improve his RV. Otis enjoyed working on and driving his 61 Ford Fairlane. He would take his dog Duke for a ride.

He loved to travel with the love of his life Sheila. Otis enjoyed cooking good food. When he was just a young boy he could eat a half pound of bacon on a BLT sandwich. He loved stuffed ham and fried oysters.

Otis was a member of the St. Mary's County Bucksnort Association, Bucksnort #349. He was one of the founding members. Otis also was a member of the Loyal Order of the Moose, Hollywood Lodge. He was a member of the NHRA Top Fuel Series. Otis enjoyed helping the Hollywood VFD operate the tilt-a-whirl with friends during the annual Fireman's carnival for numerous years.

Otis enjoyed anything with horsepower and speed. He loved to attend Boat Drag racing events at High Point, NC, car drag races, motorcycle drag racing and NASCAR. He was an avid NFL fan, being a fan of the former Washington Redskins. He enjoyed attending many outdoor music events throughout the country.

Otis was an animal lover. Anything with fur or feather was a friend. He was soft when it came to the love of an animal. As a young boy he was friends to rabbits, squirrels and even a crow. He had many canine companions through his life. Dottie, Doodlebug, Duke, Nitro and Axle.

In addition to the love of his life for 23 years, Sheila Readmond, Otis is also survived by his two brothers, Richard (Dickie) Wood (Dannette), and his oldest brother Ray Wood; his nieces Candy Cain and Kristen Roy; his great nephews Jeffrey Cain and Brenden Cain; and many extended family and friends. He is also survived by his beloved canine companion and best friend Axle (Brown).

Family will receive friends on Thursday, July 23, 2020 from 5:00 p.m. to 8:00 p.m. with prayers recited at 7:00 p.m., at Brinsfield Funeral Home, P.A., 22955 Hollywood Road, Leonardtown, MD 20650. A Funeral Service will be celebrated by Pastor Matthew Tate on Friday, July 24, 2020 at 10:00 a.m. at Brinsfield Funeral Home. Interment will follow at Joy Chapel Cemetery in Hollywood, MD 20636.

Memorial contributions may be made to The Hollywood Volunteer Fire Department, P.O. Box 7, Hollywood, MD 20636; the Hollywood Rescue Squad P.O. Box 79, Hollywood, MD 20636 and SMAWL, P.O. Box 1232, Leonardtown, MD 20650.

Condolences to the family may be made at www.brinsfieldfuneral.com.