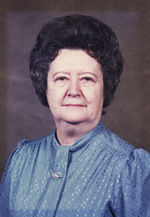 Marie Virginia Beck Oliver, 97, of Mechanicsville, MD passed away on July 12, 2020 at Solomon's Nursing Center Solomon's, MD. She was born on June 4, 1923 in Washington, DC, and was the daughter of the late John and Marie Beck of Washington, DC. She was preceded in death by her husband Joseph Berry Oliver on July 3, 1991, her brothers Joseph Beck of Forestville, MD, Russell Beck of Little River, SC, John Beck of District Heights, MD and her sister Mary Theresa Howard of Little River, SC. She is survived by her son, Joseph B. Oliver, Jr., wife Susan and her two granddaughters Kaylee and Kelcee Oliver, all of Hollywood, MD.

She attended Holy Name School in Washington, DC. Later she attended Sacred Heart School and Sacred Heart High School in La Plata, MD. She attended Maryland University and worked at the National Press Building for several years. She married Joseph Berry Oliver on April 26, 1943 in La Plata, MD and lived in Waldorf, MD for ten years. There she attended St. Peter's Catholic Church and was First Grand Regent of Court St. Peters Catholic Daughters. They moved to Lexington Park, MD in 1953. There she attended Immaculate Heart of Mary Church and worked with the Building Fund Committee for the Church in the round. She moved to Mechanicsville, MD in 1960 and taught second grade at Father Andrew White School in Leonardtown, MD until the birth of her son Joseph B. Oliver, Jr. 1967. She then took a four year leave of absence during which time she did tutoring, taught CCD and taught second grade at Mother Catherine Spalding School. She returned to Father Andrew White School and taught third grade until retirement in 1985. She became active in local prayers groups having led a group for ten years at St. Joseph's Catholic Church. After her husband's death in 1991, she became active as Extra Ordinary Minister of the Eucharist to the Nursing Homes, to the Hospital and to shut-ins for eleven years. She was secretary of the Parish Council for seventeen years, led Renew Programs in Parish, trained for Cardinal's Appeal, attended dinners annually for teachers of parish, hostess for the church dinners, worked on surveys on Catholic Education, and always attended daily mass. She was recommended by her Pastor to do pastoral work in other parishes and was the contact person for the pastoral center for training programs. She also taught the sacramental program in parochial school and taught CCD Confirmation class. She was an Associate of the Sisters of Charity of Nazareth since 1970, a member of the Serra Club since 2000 and was a Carmelite in the secular order since 1997.

The family will receive friends on Monday, July 20, 2020 from 9:00 AM to 10:00 AM in the Mattingley-Gardiner Funeral Home, Leonardtown, MD. A Mass of Christian Burial will be celebrated at 10:30 AM in St. Joseph Catholic Church Morganza, MD with Father Drew Royals officiating. Interment will follow in Queen of Peace Catholic Cemetery Helen, MD. Serving as pallbearers will be John Gatton, Keith Raley, Andrew Thompson, Grant Cooley, John Reeder, and Darren Reeder.