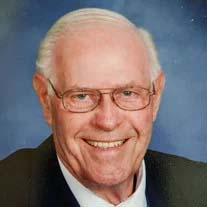 James Laurie Hamilton, Sr., age 87 of La Plata, Maryland, died July 5, 2020.

James was a Service Director for 30 years at Ken Dixon Chevrolet in Waldorf, Maryland and was in the U.S. Army National Guard for eight years.

He was the son of James Otis Hamilton and Catherine May Hamilton.

He is survived by his wife, Peggy Ann Hamilton; his children, James L. Hamilton, Jr. (Hazel) and Brenda Ann McDonagh (Mack); his siblings, Donnie Hamilton, Bobby Hamilton, and Shirley May Wollard; his grandchildren, Mike, Sean, Macky McDonagh, Jas. L. Hamilton, III, and Jessica Hamilton; and his great grandchildren, Nathaniel, Matthew, Wyatt, Jay, Emily, Temprence, Sloon, and Roana.

Funeral Services will be private.