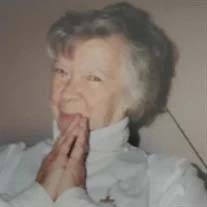 Anna Bell Bean was married to the love of her life, Richard Elwood Bean for 15 years before his passing in 1970.

She was blessed with six children: Paula Duff (Matthew), Christopher Bean (Kimberly), Carey Tarbell (Michael), Jackie Bean, Chaney Kouremetis (Louie) and Charlie Trunnell (Jennifer). She loved and adored all of her grandchildren: Richard Bean (Desh), Donnielle Gorirossi (Joey), Matthew T. Duff,III, Anna Duff, Mary Kouremetis, Chloe Tarbell, Michael Tarbell, Jake Bean, Xavier Bean.

She was an executive secretary for the government, ran a Day Care Center and was a Lay Missionary for 25 years working in Washington, D.C. with Mother Teresa of Calcutta helping those less fortunate. She loved her family, Catholic faith, movies, shopping, travel, and cooking good food. She attended daily mass most of her life. In true Catholic form, she gave so much of her time, talent, and treasure. Her generosity knew no bounds.

Private services will be held at St. Peter's Church in Waldorf, MD. Interment will be at Resurrection Cemetery in Clinton, MD.

In lieu of flowers, memorial donations can be made to the Missionaries of Charity – Attention: Sister Georgiana at 3310 Wheeler Road, SE Washington, DC 20032.